Kids Super Hero Invitations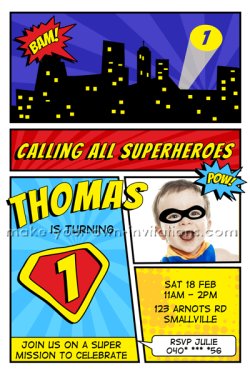 Calling all Super Heroes. Let us customize your childs superhero birthday party invitation to invite all his (or her) super guests.
We have created a unique comic book invitation design which will feature a photo of the birthday boy or girl along with some awesome hero graphics and a call out to all their super friends. We will customiae the invitation with your party information wording including the time, date, and location of the party as well as RSVP info in a speech bubble.
The wording and colors can be amended as you wish and a line or two of extra information can be added.
Invite Wording: Calling all Superheroes
Thomas is turnin 1
Join us on a super mission to celebrate
Available as a "print it yourself" 4"x6" or 5"x7" jpeg file. You can print off as many copies as you like.
Design: BK214 Superhero invitation
Price:- $15.95