Pirate Birthday Party Invitations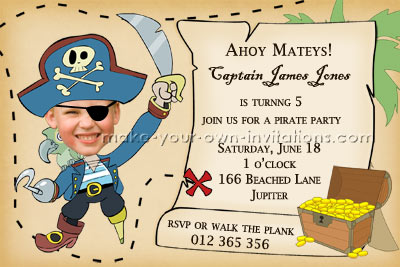 Aargh Me Hearties, tis time to swab the decks and ready the ship to sail the seven seas for a pirate themed birthday party. Treasures a plenty await at the Isle of Birthday Fun and what better way to invite your pirate guests than with this cool photo invitation
We will transform your child into a swashbuckling pirate with sword in hand and his trusty pirate perched on his shoulder. The old map scroll will announce the party details including the time, date and party location. You can personalise this information with extra details of your own if you wish.
Invitation wording: Ahoy Mateys
Captain Sydney Melbourne is turning 5
Join us for a Pirate Party
Date, Time, Address
rsvp or walk the plank - rsvp details.
Photo tip: Send us a photo of your child with their head facing forward looking directly at the camera.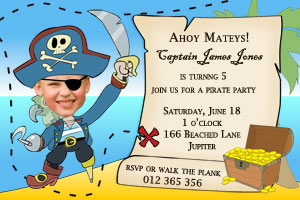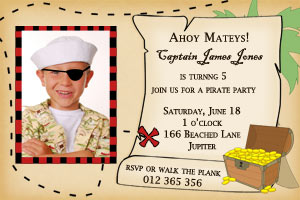 Alternative backgrounds for the pirate invitation. A nice deserted island and ocean scene and a framed photo invitation which would be perfect for your child in full sailor or pirate costume.

This invitation is available as a "print it yourself" 4"x6" or 5"x7" jpeg file. Print off as many copies as you like.
Design: BK219 Pirate Birthday Party
Price:- $15.95