Customized Dinosaur Birthday Invitation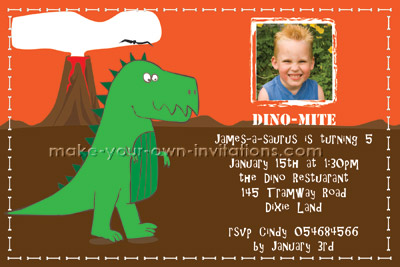 Add your childs photo to our Dinosaur birthday invitation featuring a fearsome and yet cute T-Rex to welcome your guests to your Dinosaur related themed party.
Announce your Dinosaur Dig adventure or other Dino party games, there is plenty of fun to be had by all. It will be a roar!
Our Dino invite features the popular Tyrannosaurus Rex, an erupting Volcano off in the distance. We have a photo frame place holder ready for you to insert a picture of your little dino boy or girl.
Invitation wording:
DINO MITE
Jamie-o-saurus is turning 5
Date, Time, Address
rsvp details.
Photo tip: Send us a photo of your child with their head facing forward looking directly at the camera.

This invitation is available as a "print it yourself" 4"x6" or 5"x7" jpeg file. Print off as many copies as you like.
Design: BK220 Dinosaur Birthday Invitation
Price:- $15.95