Princess Party Invitation
A lovely princess party invitation design for for a queen, or for a girls royal birthday celebration. Invite all your friends both the fair maidens and the heroic knights to your party with these invitations that can feature a photo id you wish.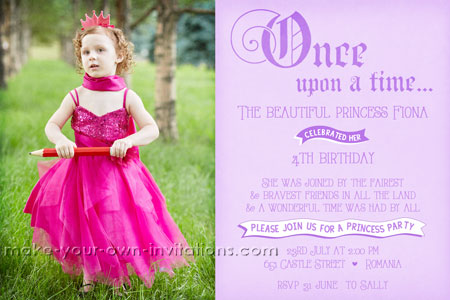 Purple princess party invitation
Send us a photo of the birthday girl to feature on this invitation. We can change any of the wording at your request although we do quite like the setout of the current wording and urge you to consider keeping the current format.
We can also change the pink or purple default colors upon request (Please be sure to add your change requests in the 'Extra information' box below.
Birthday Invitation Wording:
Once upon a time...
The beautiful princess Jasmin celebrated her
5th birthday
She was joined by the fairest
& bravest friends in all the land
& a wonderful time was had by all
Please join us for a Princess Party
Saturday 18th June at 12:00pm
651 King St, Aurora
RSVP by June 5th to Bella
Photo Tip: Take a photo of your child dressed in her favourite princess dress up costume.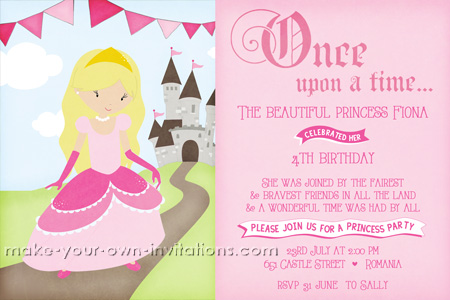 Pink princess party invitation without a featured photo
Please keep any additional party information to a minimum.
Available as a "print it yourself" 4"x6" or 5"x7" jpeg file.
The 4x6" file will include two ticket invitations that each measure 2"x6".

Design: Bk242 Princess Party Invitation
Price:- $15.95