Sonogram Baby Shower Invitation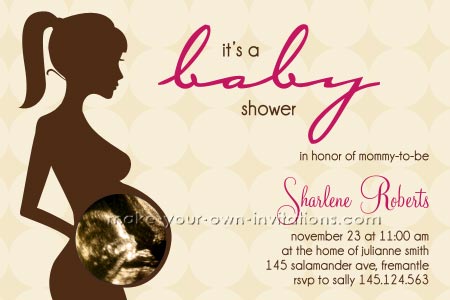 For the little baby who will soon be with us. This invitation has a modern background in two tone colors. A silhouette of a mama to be with her baby bump is featured on the left with the title "Its a baby shower" in script and block writing.
What makes this invitaiton unique is that we can insert a small picture of baby's sonogram (aka ultrasound) What a lovely way to introduce your little one to the world.
We can alter the background color to blue if you're expecting a boy, pink for a girl and a lovely green or beige for a surprise baby.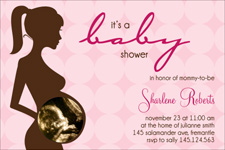 Invitation Wording
it's a baby shower
in honor of mommy to be
atlana melbourne
november 23 at 11:00am
at the home of Martha Ann
124 sydney rd, denver
rsvp to sally 123.232.2322
This invitation available as a "print it yourself" 4"x6" or 5"x7" .JPeg file.
Design: BS101 Sonogram baby shower invitation
Price:- $15.95