Halloween Skull and Crow Invitation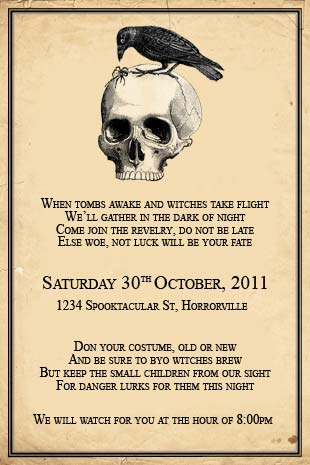 When tombs awake and witches take flight,
We'll gather in the dark of night.
Come join the revelry, do not be late
Else woe not luck will be your fate
Set on a vintage parchment background, a black crow feasts upon a spider perched on a human skull. The perfect creepy setting to invite your guests to a Halloween celebration strictly for adults. This design may be a little too scary for the kids.
The 2nd verse allows you to ask that your guests come dressed in costume, state whether or not the occasion is BYO drinks and also advise that it is an adult party. You can leave off the 2nd verse if you wish or edit it as you wish

Don your costume, old or new,
And be sure to BYO witches brew, (be sure to partake of our witches brew)
but keep the small children from our sight
For danger lurks for them this night
Available as a "print it yourself" 4"x6" or 5"x7" jpeg file. You can print off as many copies as you like.
Design: HY011 Halloween Skull Invitation
Price:- $15.95
Back to see more Creepy Halloween invitations for your party