Photobooth Save the Dates
Send in 3 or 4 photos of yourself and your fiancé and we will format them to fit in to an old fashioned photo booth strip set on a solid colored background of your choosing.
On the one side will be your photo strip and on the opposite side your Save the date information including the bride and grooms names, location, date and the text 'invitation to follow' You can also add additional information like your wedding website address.
We can color your photos to be black and white or a vintage wash as pictured in this teal sample.
Available as a 4x6" or 5x7" JPEG file for you to print as many copies as you like.
Design: SD508 Photobooth STD
Price:- $15.95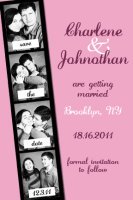 Tips for taking your photos
-Take your photos up against a plain background - if you're going for black and white pics then the background can be any color at all.
-Take close up shots rather than full body shots
- Hold your signs at around the chest level
- No super wide photos, portrait layout is better than landscape
Options for using signs
-Make your own signs on your computer with a large font
-Hand draw your wording onto your signs is solid thick lettering
-Hold up blank white paper in place of a sign and we can edit the photo and add the text that you want
-Leave out the signs and we can add caption boxes with desired text
Return from custom Photobooth Save the Dates to see more STDS