Haunted Halloween Invitation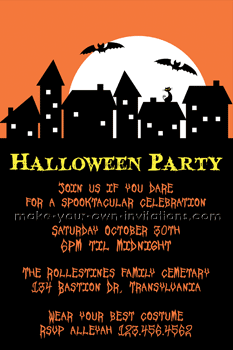 Calling all ghosties and goblins, we have a Halloween party invitation for you. This invitation is set on a background of haunted house silhouettes complete with a couple of bats, a cat and a full moon. The bold orange, black and white colors will leave your guests in no doubt of the Halloween revelry to come.
The invitation is titled Halloween Party but this can be changed to incorporate the name of your own celebration. Guests are invited to 'Join us if you dare for a spooktacular celebration. Any of the wording along with the colors can be changed if you wish. Think Deep purple and green Halloween colors.
This invitation can also be used for a birthday party too.
Available as a "print it yourself" 4"x6" or 5"x7" jpeg file. You can print off as many copies as you like.
Design: HY001 Haunted Halloween
Price:- $15.95