Halloween Bat Invitation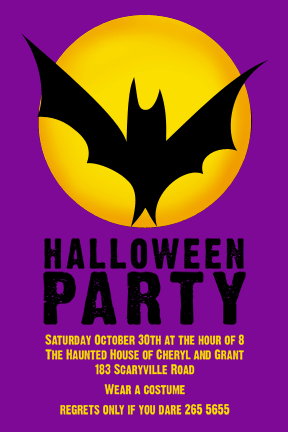 This nice clean simple design features a black vampire bat circling a bright yellow full moon on All Hallows Eve, hunting for a party celebration. The design is set on a contrasting purple background which can be changed to any color of your choosing.
The invitation wording below simply reads "Halloween Party" in a strong font with the date and the rest of the party details below.
Halloween Party
Saturday October 30th at the hour of 8
The Haunted House of Cheryl and Grant
183 Scaryville Road
Wear a costume
regrets only if you dare 265 5655
Edit the invitation party information to suit your Halloween celebration. Colors can also be changed upon request. Try this invitation out for a costume birthday party.
Available as a "print it yourself" 4"x6" or 5"x7" jpeg file. You can print off as many copies as you like.
Design: HY001 Haunted Halloween
Price:- $15.95