Cute Baby Boy Shower Invitations
If you're expecting a bouncing baby boy then you have come to the right place for great ideas to make your shower invitations. Check out the action below. If you made your own baby shower invitations you can send them to us to post in the gallery along with your tips. Contact me via the contact form.
Blue Baby Shower Invite
Hello :) Here is the invite I made. I had a lot of fun making this, although it took me forever to decide on a design. I ended up using a design similar to the one on the flat card packaging.
Materials for invitation
Blue flat card is 4 1/2 X 6 1/2 Hot Hues! from Gartner Studios (Target)

American Crafts patterned scrapbook paper

Baby sticker embellishment (Target)

Black Card stock from my own stash

Double sided tape
How I made them
I created a Word Document to fill in the shower information on the front and the back of the blue card stocke, I hade to run each card through the printer twice.
I trimmed the patterned cardstock to fit the blue card. It is aprox a 2 1/2" x 4 1/2" strip.
The black strip is approx 1" thick, just wide enough for the word "baby" to fit.
I then taped all the elements together using double sided tape.
Such a Simple DIY invitation!
Fonts: Lucida Handwriting, Antigoni Light
Gina Knuppenburg
Heber Springs, AR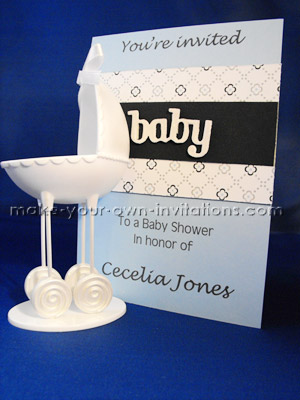 It's a Boy invite!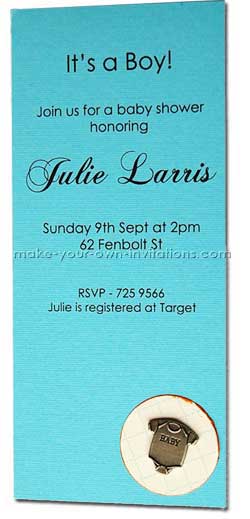 This invitation was really really easy to make and took only a couple of hours to get them all done. The part that took the longest was actually was coming up with a design. It's scary when you make your own invitations because your want to get it perfect but you don't realize that no matter what you do they will look good, far better than store bought.
It is basically a bookmark type of invite so the guests can use it after the party if they want.
How to make it
The design was typed up onto a word document and printed directly on to a sheet of blue linen card (blue for a boy) I was able to get 6 invites from each a4 piece of card.
The little onesie charm is from a pack of making memories card charms . There are 12 in a pack with 6 different baby charms.
I punched a piece of patterned paper with a circle punch, taped the charm to it and then pasted the circle to the card and that was that.
Products used:
Making Memories card charms
ChopinScript font
Blue linen cards