DIY Cowgirl & Cowboy Invitations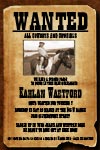 Yeehaw! It's time for a western style party and you're all invited! Take a look at some of our cowboy and cowgirl invitations, resources and free tutorials for inspiration to make your own Birthday or celebration invites.
We have found our readers love to use the cowboy theme for Birthday parties for both kids and adults. Some readers have even made invitations for retirement parties and wedding anniversaries.
What ever your occasion you will be sure to find a DIY option that you like. For those non crafty mamas we do have a customised photo invitation just so you don't feel left out.
Cowboy invitation ideas
Stars will make great embellishments for your birthday invitations. Buy a plastic sheriffs star and stick it to your invitation - or maybe you can make your own star with a cardboard cutout and tin foil (aluminum foil)

Denim fabrics or patterned paper will work well for backgrounds. So will a wood grain or a neutral wheat colored paper. A bandana too.

Make the invitation in the shape of a boot. Attach metal studs or paper fasteners to the boot as decorations. Other shapes you can cut your invitations into are a sherriffs star, a buckaroo or horse.

Take a photo of the birthday boy or girl in their Western Duds and colorize them in sepia tones, for example:
- A simple face shot of your child in a cowboy hat. Tie a bandana around their neck if you have one.
- Take a full body shot if you have jeans, and cowboy boots. A checkered shirt and a vest would be great but if you don't have either then a collared button up shirt will be fine.
- A picture on a pony, rocking horse or toy horse is another option.
-Note - if you take your photo in Sepia mode then the colors of the clothing won't matter so if all you can find in your closet is a pair of blue denim jeans, a fluorescent green shirt, a hot pink vest and an orange cowboy hat - the photo will still turn out great. Just don't let the neighbours see you!

Make a Wanted poster in your word processing software (MS Word, etc) Print on to regular paper (or craft colored paper) Age the paper with buy carefully burning the edges with a lighter. Do this over your kitchen sink to be safe.
Western invitation Wording
It's all in the invitation wording, so we have a few cowboy phrases and western slang here that you can incorporate into your DIY invites. take a look at our western invitation wording ideas as well if you get a little stuck on what to say. There are some pretty creative cowboy wording verses you can use.
Western Invitation Wording Ideas
| | |
| --- | --- |
| Wanted - You're invited | Grand ol time - great time |
| Get on down here - Come over - | Stompin' good time - good time |
| Saddle up and rid on out - come over | group - posse |
| Calling all cowpokes - calling all my friends | High Noon - Noon, lunchtime, noon-thirty |
| Mosey on over - come over, you're invited | Sundown - Evening, 6pm-ish |
| Fandango - a big party | Ridem cowboy |
| hoedown - party | There's a new sheriff in town |
| Roundup - get together or party | Get in your saddle |
| Our house - the big 'M' Ranch, the Lazy 'O' ranch, Rockn 'V' Ranch - Use the initial of your surname. | kick up yer heels |
| The Smiths Corral - the smiths home - location of party | Yee Haw |
| Saloon - location for party | Saddle up in jeans - dress in jeans |
| Ponderosa - homestead | |
| Howdy Partner - Hello | Western duds - cowboy clothing |
| Get a wiggle on - hurry up | Sharpshooter - birthday boy |
| Give us a holler - RSVP | Bucking bronco - birthday boy...or girl |
| Have your ma or pa give us a holler | Chuck wagon Grill - Western BBQ |
Cowboy Invitation Fonts
A great list of modern and vintage western themed fonts that you can use to make your western invitations. Each of the fonts listed is totally free for personal use. Each font will come with an authors licence document. Read it carefully to ensure proper use of fonts.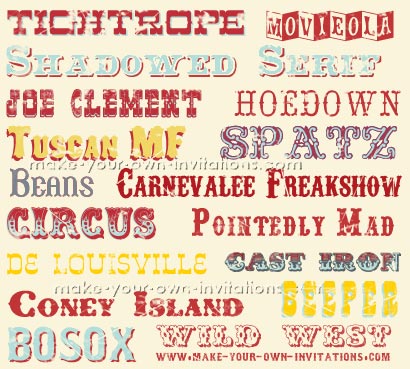 Western Invitation Fonts
Wild West Invitation Samples
See some of the different invitations that you can make for a wild west birthday party.
Wanted! Birthday Invitation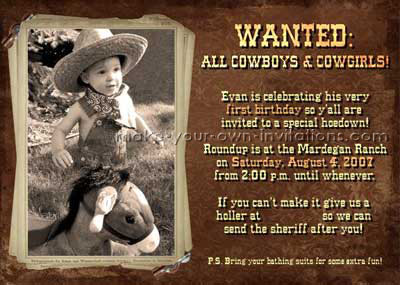 COWBOY INVITATION
This is a DIY digital invitation that I created for my sons very first birthday. He was given a rocking horse for Christmas and I figured it was a good theme for a party. I made the picture on top a 3 dimensional embellishments by putting foam disks underneath it to make it 'pop'.
Cowboy Invitation Wording
WANTED
All cowboys and cowgirls
Evan is celebrating his very first birthday
so y'all are invited to a special hoedown
Roundup is at the Mardigan Ranch
on Saturday, 5th August 2009
from 2:00pm to whenever
If you can't make it give us a holler at 555 123 4567
so we can send the Sheriff after you!
E Mardegan
Windsor, Ontario, Canada
Recycled Western Cowboy Invitations
These cool invitations made for a 7th birthday party imitate a bandana stuffed into the pocket of a pair of jeans, or maybe the front pocket of your shirt. Made from recycled papers and materials means they are inexpensive to make as well as environmentally friendly. Bonus!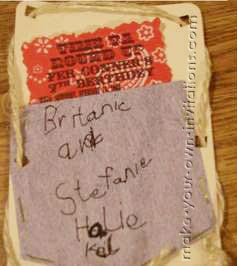 I recycled some items to make this invitation to my son's 7th birthday party. The theme for the party was Western cowboy, etc.
Method
I used some old file folders for the yellow backing card stock and re-used some twine from an old stack of newspapers that were delivered to my work. I am unsure of the fabric printed paper brand, as I bought them last year. I used yellow staples to mimic the stitching of jean pockets a bit. My son helped assemble them. He loved using the stapler, ho
le punches and the decorative edge scissors! Fonts are freeware downloaded off the internet. My son hand addressed them.
Handmade By Lena (and son)
Arizona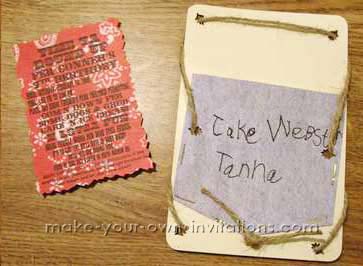 Want a custom printable invitation
Don't really feel like making your own cowboy invitations? Then order one of our custom cowboy photo invitations. We personalize the invite with a photo of your little buckaroo in a WANTED Poster and send you the jpeg file to print at a photo lab of your choice (cheap as chips to print them this way) Or if you want you can print em off at home on your own printer. See some of the invitations that we have made for customers here - More Wanted western invitations.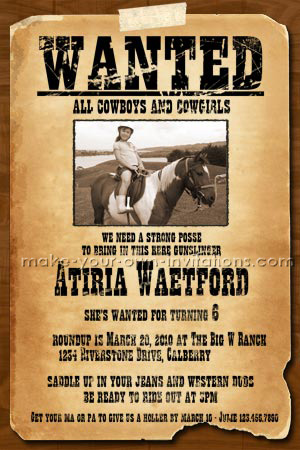 Wanted Poster Invitation
Now that you have your invitations sorted it's time to focus on the party. Grab some great Western party ideas for everything from the decorations to food to the party costumes. There are also wild west party games you can play too!