Make Your own Halloween Invitations
If you are looking at making your own Halloween invitations then you have come to the right place. We have lots of cool ideas for the DIY party host. There are several step by step tutorials as well as some printable invitations for those of you who are may not be quite so creative or don't have a lot of time to spare.
Out our latest tutorials and printables are at the bottom of this page along with fonts that will fit the theme.
Check out our customized Halloween Invitation Giveaway
Unique Halloween invitation ideas
For a super simple invitation idea buy some of those googly eyes from a craft shop and adhere them in pairs all over your black invitation.
The perfect colors for you're invitations are black or blood red invitation to make you scream. Of course you have the traditional color scheme of black and orange.
Make a creepy coffin shaped invitations for a frightening cool invite or maybe even gravestone shaped invite. Other halloween shapes include a Ghost, Witches hat, a pumpkin, a bat or tombstone
Movies with a Halloween theme Dracula,
The spiderweb punch from martha stewarts and give the edges of your invitation
A severed finger in a box with piece of string or ribbon tied around it so that you won't forget.
Create a nice white invitation and splatter it with red ink or paint to look like blood! Splatter blood on your envelopes too.
Make a toe tag invite out of shipping labels. We have a free printable template for you to use.
Patterned papers from your craft shop or department store are great for making invites. See also the range at your scrapbook store.
Printable Halloween Decorations
We are happy to announce a printable Halloween Party Pack for the DIY host. Filled with cupcake and party bag toppers, a Halloween Pennant Banner and other great items to make your Halloween Party complete. Check out more details on the Printable Halloween Decorations pack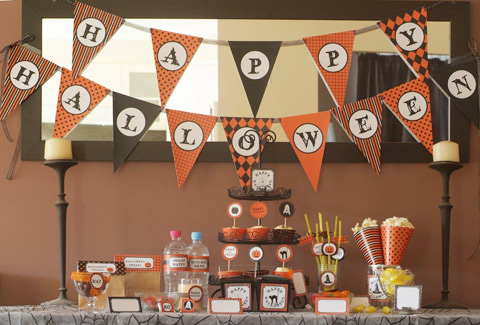 Printable Halloween Party Pack
Halloween invitation wording
Some Halloween words to spice up your invitation used in a rhyme: eyeball, BOO, witch, spooky, creepy, scary, black cat, pumpkin head, tombstone.
Spooky Invitations Wording
If you like this verse
We've clever cats and withches keen,
We've merriment and jest,
Twill be a perfect Hallowe'en
If you will be our guest...
Callining all ghosties and ghouls
Creep over for a Halloween haunting
The hour: 8pm
the haunt: 55 Merryweather Rd
Then take a look at our Vintage Halloween Invitation Verses to spice up your invitations. These verses are taken from vintage postcards that were first used way back in the early 1900's. Other Wording for invitations ideas have a little more of a modern feel.
Happy Owl-o-ween!
Halloween Fonts
These are a few of our favorite Halloween fonts that we like to use when making our own invitations. We have listed the fonts and their respective authors. All of the fonts are free to download and use on your own personal projects. Check with the authors before using for commercial purposes.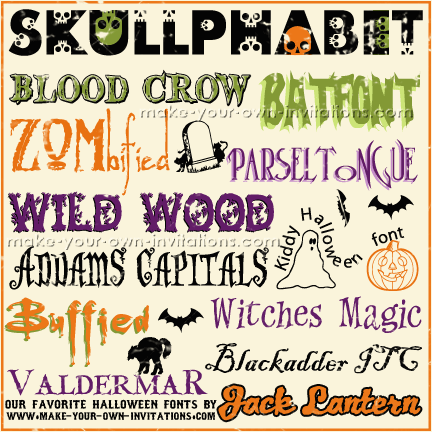 Halloween themed fonts for invitations
Some other fonts that I haven't listed here include Halloween Spider
Halloween invite examples
See more examples and tutorials for invitations from other DIY'ers. To read more about how each invite was made click on the links.
Spooky Halloween Party Invitations
These spooky invitations were made with Reminisce patterned scrapbooking papers and the invitation details printed onto white cardstock. There were matching place cards, gift bags as well.
Charity Hassel
Jacksonville, Florida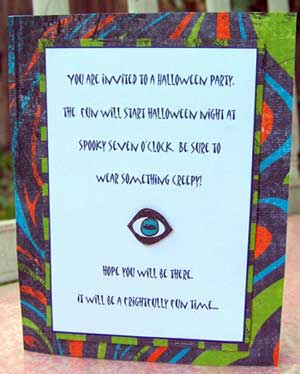 The Halloween party place cards - how super cute are these.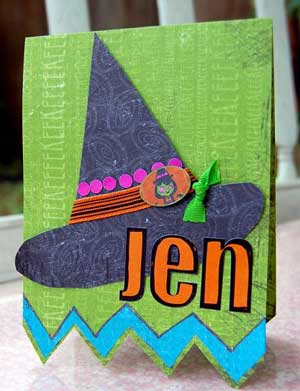 ---
We're Dying to have you
Supplies:
Sketchy Uppercase-CTMH acrylic stamps

Ribbon-Michaels

Goo Border Punch - Martha Stewart

Gift Card Holder - Short Cuts

Pattern Paper- Imaginisce
This invitation is made from a gift card holder. All the party details have been printed on to white card and matted onto the red tag then slipped into the card holder which has been decorated with a halloween 'BOO' theme. When you open up the card holder the invitation is sitting there waiting for you.
Made by Melyssa
Nova Scotia, Canada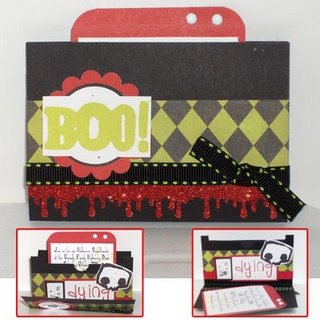 Printable Halloween Invites
OK for those of you non-crafty types, we have some printable invitations for you to download and print from your home computer. Some are free and some are not.
Free Printables
We have three printable invitations for you to download. A vintage skull and black cat invite, our popular toe tag invitation and our pumpkin invitation. You can download either of these printable invitations here.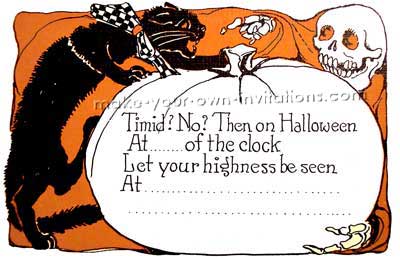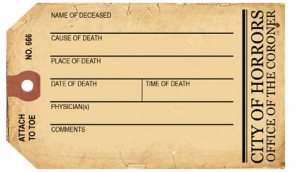 Free vintage and toe tag invitations
Win a customized Halloween invitation design
We have a range of Printable Halloween photo invitations. We have both fun invites for the kids and a few scarier formal invitations for the adults. We can personalize the party invite for you with your specific information and we will send you the jpeg file to print at a photo lab of your choice (cheap as chips to print them this way) Or you can print them from your home printer if you prefer.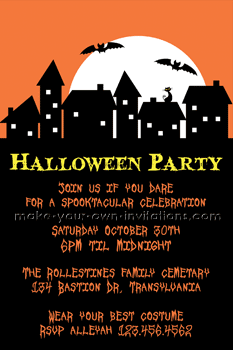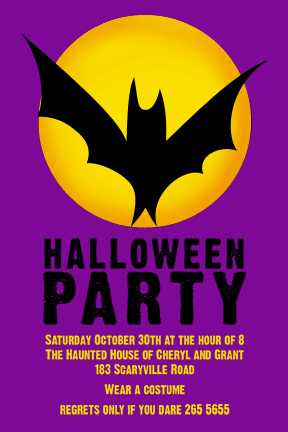 Custom Halloween invitation