Handmade Halloween Invitations
I wanted some unique halloween invitations for our big bash this year. We were planning a party with a Witches ball type theme. Lots of pointy hats, broomsticks, couldrons with green bubbly potions brewing inside. We tossed around a few couple of ideas and settled upon a mini broomstick and card invitation. We are pretty happy with the way they turned out. They're our favourite homemade invitations so far.
We have put together a diy tutorial for you to create these cute invitations.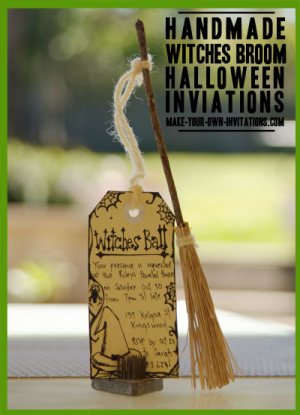 Witches Broom and tag invitation
Tutorial to make invitation
Stuff to make them
Sticks for broom handle
Dead long grass for the broom, alternatively you can use natural colored rafia, straw, wool, broom bristles.
tags - from an office supplies store or you can make your own
string or twine (wool works well too)
Black permanent marker pen with a fine nib
scissors
Making the invitaitons
Make a broom

First of all we gathered up some dead sticks from around our backyard and the nature adjacent to our home. We also collected some long grass stalks that was nice and dry.

Gather a small bunch of dried grass, trim the top and tie it to a stick (approx 5" long) with a length of twine or wool.

With a pair of sharp scissors, Trim the excess string.

Take your assembled broom stick and carefully trim the ends of the grass stems so that it is nice and even.

Create the tag

Take your tag and write the heading in pencil. If you would like to include a simple motif then draw it in the bottom left corner. After you are happy with the look and placement of any elements you can go ahead and Copy over them with a fine nib black pen. Rub out any lingering pencil marks when you are done.

Witches hat drawing
You can see here that I have hand sketched a simple witches hat in pencil. Please note that I am not good at drawing, I find simple basic shapes that I can copy easily.

Heading
For my heading I wrote the phrase "Witches Ball" in normal writing with pencil. I then went over the pencil with a fine nib black pen. I added a little diamond shape at the ends and tails of all the letters to try and create cool Halloween type writing.

NOTE: I do not like my handwriting at all, it is messy, boring and inconsistant at the best of times. I try to stick with straight quick strokes when i write a title, then I fancy it up afterwards.

Once you have inked the title and the withces hat drawing then you can slot in the invitation wording.

Again, I try not to stress out about my less than ideal handwriting and do the best i can knowing that the overall final invite will look good.

Now you can create a simple border around the tag and fill in any empty spots with spider webs, spiders, tree limbs, swirls and random shapes.

Again I created the drawings in pencil then inked over the top.

Close up view of the tag.

You can see the spider webs at the top and sides and some random lines at the bottom like the roots of a tree.
We hope you like our Witches Ball broomstick and tag invitation. I was quite surprised at how good it turned out considering during each of the first stages of creating the tag we thought it looked quite boring. But once we added the border the tag took on a new look. I am quite the fan of borders in black ink now.