How To Make Fairy Princess Invitations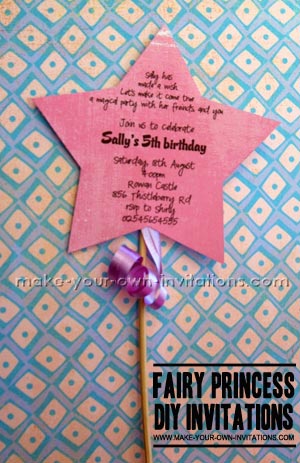 DIY fairy invitations
This tutorial is for making cute wand shaped fairy invitations. They are perfect for a little girls Fairy Princess birthday party or a wizards and witches party. Your little princesses will love to receive such a unique and charming intitation.
I created this invite because I was tired if the boring store bought party invitations that had no personality. I wanted something to capture the spirit of a fairy princess. So I brainstormed a little and a magical wand was the first thing that came to mind. I had also tossed up the idea of toadstools, a fairy dress, a crown and a castle which you can also find in our princess invitaiton page. For this party my darling daughter and I decided upon fairy wands.
We hope you enjoy making these invitations as much as I did. I have done half the work for you and created an easy printable to make the task a little easier for you.
Supplies to make fairy wand invitation

Computer and printer (optional
Pink construction card
Dowelling (I actually used some reed diffuser sticks - they were perfect)
Curling ribbon
A hot glue gun (or white glue or tape)
Scissors etc
Download the printable star invitation template pdf

Step one

Download the printable fairy wand star template

You will need to make sure that you have the latest version of Adobe reader to be able to view and edit the file with your party information.

Fill out the wording.

Hot tip:
Click on a text box and Type <CTRL E> to bring up the tool bar to change the font.

Test print onto plain copy paper before committing to printing on cardstock

Step two

Print out the completed template onto firm pink colored cardstock. I have used a cute scrapbooking card with a cool grungey pink pattern on it.

Step three

Cut out the star invitations and set them aside for the moment.

Take your dowel or stick. Cut a length of pink or purple curling ribbon about 18" long and tie it to the stick about an inch down from the top.

Use a pair of scissors to curl the ends.

Step four

Adhere the stick to the back of the star invitation with a glue gun. You can use regular white glue or tape if you do not have a glue gun.
Extra embellishments
You can embellish these invitations with more ribbon if you wish. You can line the edges with a thin line of glue and sprinkle with glitter for some extra sparkle.
It is a good idea to hand deliver these invitations to the recipients as they will not easily fit into an envelope.