Make Your Own Princess Invitations
Prince and princess themes are popular with children's birthday parties, A Disney princess theme ranks in the top 10 party themes for girls birthday partys.
Instead of purchasing princess invitations with absolutely no personality, why don't you try your hand at making your onw invitations. There are numerous ways that you can make your own invitations to suit a royal princess party theme and we have tutorials with pictures to help you out.
So if your precious little princess or prince is in need of the perfect invitations then look no further than these fabulous handmade invites.
Handmade Princess Invitation tutorials
Invitations from the Shop
Crowns for a Princess
I made these for my DD's 3rd birthday. We needed a simple princess theme for our invitations and chose to use make a crown shaped invite.
Materials used to make crown invitations
Pink and purple cardstock
princess crown invitation template
adhesive - double sided tape or glue
printer and computer
silver sequins or craft gems
craft knife or scissors
paper cutter The base of the invitation was a simple crown shape that we traced on to Pink and purple cardstock.
Step 1 - Print the template
Right click on the cown image to the right and Save it to your computer. Open up MS Word or similar word processing program and Insert the image into a new document. Resize it as needed then print the crown invitation template on to firm card so that you can trace the image several times on to your card stock.
Trace onto pink card and cut out. this is easier done with a craft knife as you have better control around the points of the crown.
Step 2 - Print the wording
With your word processing program arrange your invitation wording to fit inside the crown - you might need to play around with this a little until you get it right. Print onto scrap paper first to ensure you have the correct dimensions. Once you are satisfied you can print directly on to your card.
Cut out your wording and adhere it to the crown. You can create a matt for the printed layer to create a more appealling look.
Embellish the invitation
Decorate your invite with any craft materials you have handy. We've used sequins in complimenting colors. You can also use fake gems and glitter.
By Blake's Mommy
Lakeland, Fl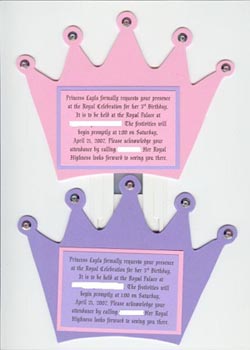 Princess Birthday Pocket Invitations
A simple pocket invitation with stamped images. Simply make a pocket and tag invitation. Print the party details onto card or paper and adhere to the pull out tag. Slip the tag into the pocket and you're done.
Experiment with the size of the pocket. There is no right or wrong way to make this invite. Punch a hole in the tag with a hole punch tool and tie in some fibers or ribbon.
Handmade by Caroline
The Netherlands dutch