How to Make a Homemade Graduation Invitation
Graduating from your class is an important milestone event where you will surely want to be surrounded by your closest friends and families. The party afterwards also demands some attention. Why not personalize your day and your invitations by making your own invites in your own unique flavour.
We will constantly be adding more homemade graduation invitations to help you create the perfect announcement for your kindergarten, college or high school grad invites. We are always adding more graduation invitation wording, techniques, pictures, examples and ideas to give you some ideas to use when creating your own.
If you would rather print a ready made invitation then you should definitely take a look at the printable graduation invitations that we have created with some of the freely available invitation clipart right here on this site.
Ideas for how to create hand made Graduation invitations
Graduation cap invitation
Fold a piece of black craft card in half and trace the shape of a graduating cap onto the front. Cut out the cap to create a folding card. Type up the party information onto some paper and insert into the open card. Make a tassle from white or yellow colored string and attach to the front of the card for an extra embellishment
Clip art
cap gown scroll diploma
Rubber stamped invitation card
Use rubber stamps to decorate the front of your invitation card. there are a number of diffeerent stamping techniques of varying difficulty that you can use to create a more interesting card. Find stamps with a cap and diploma motiff, an apple to depict learning or knowledge, perhaps a stamp with graduation related text or script. You can also find theme stamps to suit the graduating students field of study. For example Music sheet or instrument stamps, ballet shoe stamps, science themed, an ABC block stamp for kindergarten and so forth.
Diploma invitation
Create an invitation with your word processing program, print and roll it up like a diploma. Tie a length of stiring or ribbon around the scroll to secure it.
Packets of graduation confetti
Some craft stores will stock a graduating cap punch. You can use this punch with colored paper to make embellishments for your cards or you can make a small packet of confetti to include in your invite envelope for your guests to use on the big day.
School colors Whatever style you choose to make your invitations, be sure to try to incorporate your education institutions colors, motto and monogram where you can.
DIY Graduation Invitation Tutorials
Click on the invitation picture to see more details on how to make each invitation.
Printable Graduation invitation templates
Free printable invitations
See our range of free printable invitation templates that we have created for your own personal use. You can print the templates onto card. Cut and fill them out with your graduation information. These are handy invitations to use when you are pressed for time.


Printable Grad Invitations
Custom printable grad invitations
If you have decided that you would much prefer an invitation with a polished finish without all the hard work then let us create your invitations for you. You can order one of our inexpensive printable invitations created especially to be printed at your local photo lab (for around 10cents each! bargain) or at home on your color printer. We customize your invitation with your photo to create a more peersonalized invite.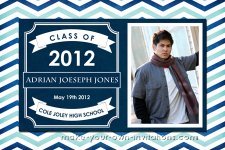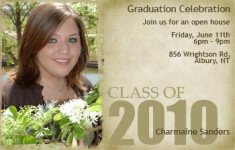 Custom Graduation Invitation Designs
Wording for you graduation invites
No invitation is complete without wording.
Invitation wording - Choose from our selection of invitation text for the perfect txt layout for your invite.
Graduation Verses - We also have a few lovely graduation poems and verses that you can utilize as well to add a special touch
Make your own grad Invitations and share them here.