Graduation Party Invitation
You've been presented with your diploma and now it's time for the party. Get inspiration to make your own party invitations from our readers submissions in this gallery
Click on the invitation to see more details.
Grad Party Invite
Designed by Kristen Drozdowski, Canton, MI, for her graduation.
Edgy credit card party invitations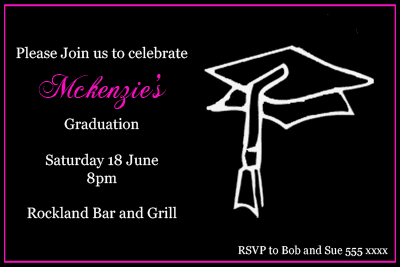 So you have graduated and you want some cool edgy invitations to your graduation party. Being the new age modern day person that you are you maybe tempted to forego the old fashion standard card invitation and go for something a little more keeping with the times like email... Boring! Just because you can, doesn't mean you should. Sure, get the word out via social networks and email but do not pass up the opportunity to make some great invites.
These invitations have been created with Photoshop elements and are only 3"x2" in size (about the same size as a credit card or wallet sized photo) They are like business cards. They can be printed 9 invitations to an A4 sized piece of card to your own desktop printer. Another cheaper way I could print them is to arrange 4 invitations to create a 4x6 image which I can take down to the photo-lab and get them printed to photo paper, then I would simply cut them out. This is a super cheap option - each invite will cost less than 10 cents each to print.
Once they are printed you can hand them out to your friends and family as you see them. They can also be easily posted.
Funky Invitation
A digital invitation made with scrapbooking digital art.
Made by Chi-Girl
Los Angeles, CA