Make Homemade Baby Shower Invitation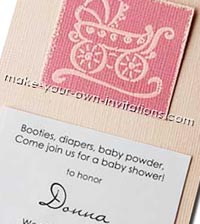 You need baby shower invitations for the special mom to be but to your dismay you find the invitations available at your local store don't quite suit your needs. And as for those custom made invites that look absolutely gorgeous, they may be out of your price range. Not to worry, You can still have great looking personalized invitations without forking out a heap of cash. Great! That means more money for diapers. You can simply make your own homemade shower invitations.
Making your own baby shower invites can be a fun activity. There are so many different techniques available that you can use to make your own handmade invitations. A simple stamped impression on to cardboard can create the perfect accent for your party invitation ad you can use those same accents on your coordinating party decorations and party favors. You can purchase small charms or ribbon to add a bit of flair. With a bit of technical creativity you can even use your word processing program and some free clipart to make printable invitations.

Whatever method you decide to go with you can definitely create your own one of a kind invitation to be the delight of your guests. We have plenty of ideas as well as tutorials to make different themed baby shower invites.
Cute baby shower invite ideas
Buy inexpensive baby items like a pacifier or dummy, write your invitation details on to small tags, punch a hole in the tag and tie it to the pacifier.

Baby's bib invitations - Print the party invite on to a baby bib with fabric paints. The guests can bring their bibs along to the party and give them to the mother to be.

Folded card - Construct a folded card in the shape of a baby item - baby, stroller, pacifier, footprint, bib, diaper and print the party information on the inside.

Diapers or Nappy invitations - Make and actual diaper invitation from a real diaper. What a crazy idea.

Message in a baby bottle! A babys bottle. Print the invitation on to bright colored paper, roll it up, tie a ribbon around it and pop it into a baby's feeding bottle.

Baby food label invitations Carefully peel the label off a can or jar of baby food, measure the label and use your computer, word processing software and printer to make your own label invitations. Stick the labels back on the jars and hand them out.
Free baby shower invitation samples and tutorials
| | | |
| --- | --- | --- |
| Footprint Shower Invitation | Baby Girl | Baby Boy |
| | | Sewn baby shower invitations |
| | How to make a diaper Shower Invitation | |
| | Twins Baby Sower Invites | |
| Monkey Invitations | dinosaur Invitations | |
| Clipart invitations | Diaper invitations | More monkey invitations |
| | Admit one ticket invitation | |
Printable Baby Shower Invitations
Choose from our range of printable baby shower invitation designs.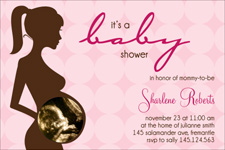 Our most popular design - Personalized Shower Invitatons
What do you say?
We can also help you with your wording for your invitations. Instead of a baby shower why not call it a Baby Sprinkle just to be different. Browse through the invitations below for even more samples of wording you can use.