Baby Shower Clipart Invitations
Using free clipart images from the internet are a cost effective way to make your party invitations. You can find all sorts of baby clipart that will suit your occasion from prams and strollers to pacifiers (dummies) and diapers. A simple lined image should be fine. Beware of the quality of the images that you find. Some are more suited to being used as computer graphics and best viewed on the monitor. These images are not suitable for printing on to paper. To be safe, stick with images that have a resolution of at least 300dpi and you should be fine. We have some invitation clipart that you might like to use.
Pram invitations
These are the very first cards that I made paper crafting! They were invites for my sister's baby shower -- she had a boy whom she decided to name Guthrie. Because she had already decided on a name for the baby I was able to make invitation monograms. I used my Cricut to create the "g"s and the diamonds. I also made her Thank You cards so she didn't have to purchase them in the midst of being preggers.
Materials
cardstock

computer, word processing program and a printer

clipart image
How to make it
Find a clipart image that will suit the theme of your baby shower.

With your word processing program you can type up all the details for your invitations ensuring that the text falls within the margins of your invitation card cut out.

Place your clip art file in with the text. Experiment with placement until you are satisfied.

Print your invitations and trim them.

If you like you can flip the invitation over and embellish it with patterned paper, ribbon and other embellishments if you wish.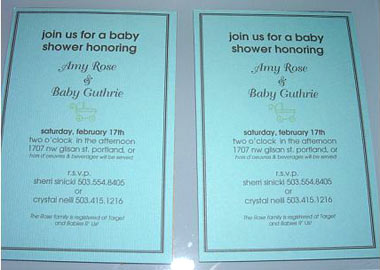 Made By Cneil