How to make cheap
Save The Date Postcards
HOT DEALS at Vistaprint.com
You can make 100 professionally printed wedding save the date postcards and they will cost you less than $10usd at Vistaprint.com.
You may have noticed that a lot the invitations and STD cards have been printed at 'print on demand' websites like Vistaprint.com. Many DIY brides are utilizing these kinds of services as they are affordable and flexible, thus allowing them to produce beautiful wedding stationary without breaking the bank. this is the way that it is going to be because that is what i say.
I have written this tutorial to show you just how easy it is to make cheap save the date postcards for your wedding or special event with only a little bit of basic design know how, A graphics program (in this case Adobe Photoshop elements) and Vistaprint.com. Note that I have chosen to use Vistaprint because I have used them before and they seem to be the most popular with our readers.
I am using Adobe Photoshop Elements because it is a popular program and it came as bundled software on the sony laptop. You can choose to use freeware such as Gimp instead.
Print them cheap
You can print up to 250 custom postcard save the dates of your own design at Vistaprint for less than $60usd (100 postcards for less than $35) Bargain!! With the new 100 postcards for $1.99 deal that brings it right down to well under $10 in total.
Step one - Download templates
Download the postcard PSD template from Vistaprint.com
for use with Adobe Photoshop. Using their templates will make it easier for you to get it right and to ensure the best possible results. Read any help material first to ensure you understand what's going on.
- Select Cards, Notes & Stationary -> Postcards from the menu.
- Select a style -> Standard
Choose how to design it -> Upload a complete design
- Layout Options -> horizontal or vertical
- Click Download a template for Standard Postcards
- Save the appropriate template to your desktop
Step two - Open Photoshop Elements & get familiar with the template
In Photoshop open the template file for the front of your postcard and create your invitation. You will note the 'Guides' layer which shows your safety margins. Make sure that you stay within the margins. Refer to the Vistaprint help if you are unsure what these are but basically your postcard will be cut at the red trim line and any text or important stuff that has to be on the card should be contained within the blue 'safe margin'
If you are going to include all the pertinent information on the front of your card you can leave the back of the postcard blank.
Step three - Start designing
Design the front of your save the date postcards keeping within the specified margins.
Vistaprint postcards come in two sizes:
Standard (5.47" x 4.21")

Oversized (8.5" x 5.47")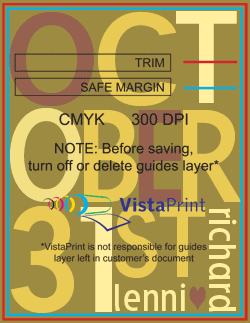 Using the guides to keep the text within a safe margin.
Step four - Final preparations before we send it to print
When you have completed your design, turn off the 'guides' layer or delete it. Save the file as a front-postcard.psd file.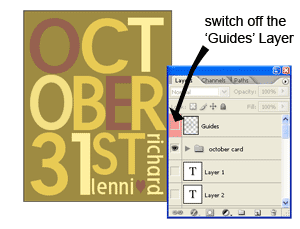 Switch off guide layer
Step five - Upload to Vistaprint
Upload your design. Go to Vistaprint.com
from the menu select Cards, Notes & Stationary -> Postcards.
Step six
You will be asked to make a couple of choices here
Step 1: Select a size - we need the 'Standard size'
Step 2: Choose How to design it - We will upload our own design (NB there is an upload fee of around $4-$5usd per upload)
Layout options: Choose which ever applies. I will select 'Vertical'
Step seven
Browse to where you have saved your front-postcard.psd and click upload. This may take a few moments. Now the front of your postcard is all done. Time to do the back.

Step eight
Move on to 'Customize your Standard Postcard back side' - nice!
Now the back of our postcards can be
Blank - Good choice if you don't have any extra details to add to your postcard. No extra charge.

Grayscale Printing - This is just printing in black and white. You can add text and images if you wish. No extra charge for grayscale printing but if you are going to upload an image or file there will be an 'upload' fee.

Full Color - Gives you the option of having a colored backing. A charge of around 6.99 plus any additional uploads will incur an 'upload' fee.
I will choose Blank backing and I'm done..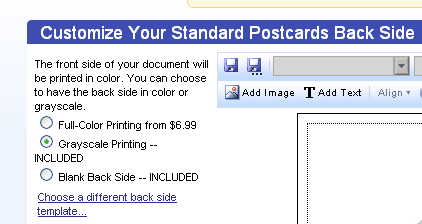 Step nine
You will need to log in at this point or register to finish off your order. Choose the number of cards you want, make your payment and your done.
if you have any questions, let me know...
Return from Save the Date Postcards to see more save the date cards.