Homemade Lego Birthday Invitations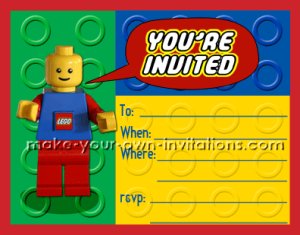 Make your own Lego birthday inviations for your little boy or girl. Lego toys have been around forever, my daughter cannot believe that I also used to play with lego when I was a child (oh so many years ago) Much to my surprise Lego is just as much a favored toy as it ever was and lego parties are in the top 20 party themes for kids.
Being such a versatile toy we found it pretty easy to think of ways to incorporate the little blocks into our DIY invitations.
Take a look at some ideas and tutorials for making your own invitations as well as a free printable invitation that you can print for your party celebration.
How to make a simple lego brick invitation
This invitation is perfect for the child who loves Lego so much you find you have a million pieces in the toy box. all you need is a permanent marker and you are all set to go.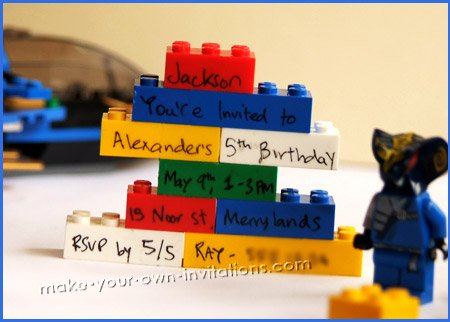 Lego invitation
Supplies
Lego pieces in various colors
Permanent marker pen (a finer nib pen is best)
small cellophane bag to contain pieces (optional)
Making the invitation
Simply assemble pieces of Lego together to form a wall. It can be symmetrical or assymetrical in shape as with our example.
Take your permanent marker pen and write your party details on to one side of the wall. You will need to include the occasion, party date, time and rsvp details if applicable.
Slip the lego invites into separate bags to be ready to deliver to your guests. You can use any type of bag you wish - we like the clear cellophane bags used for candy or the greeting card bags found in the card-making area of your craft store.
Optional bag topper
Use the "You're invited to a Lego Party" clip art image below to create a bag topper for your invitations on your computer. Print them out, and staple the topper to the top of your invitation bag.
More Lego party invitation ideas
Lego themed- Create an invitation from real lego pieces in the theme for your birthday party. ie - grab a pirate mini piece for a pirate party or the space astronaut for an outer space and aliens themed birthday party. This could get quite pricey if you have are expecting a high number of guests.

Make a printable invite on your computer - Create an invitation on your computer word processing program with lego clipart. The text can be created using this lego wording font called "Lego Thick" You can download it for free, install the font and use it for personal use only.

Build up a lego scene and place it in an area where there is heaps of natural light (close to a window or under the balcony on a nice sunny day) Take a photo of your lego scene. Upload your pic to your computer and create an invitation in MS Word or similar, inserting the photo into the invitation. If you can make a couple of signs in your scene then perhaps you can add the party info text and layer it on top of the sign.

Lego wall - Go to a good will store and buy up all the old lego pieces you can cheap. Build a wall of lego approximately 3"x4" or bigger and hand write the party information directly onto the wall with a permanent marker. You could even break the wall apart before you send it, then the guests will have to put the pieces together again to read the message.
Lego Fonts
There are a few imitation lego fonts that we like to use for our invitations. They are free to use for your personal use and can be downloaded for free on the internet.
Lego character font - designed around the lego minifigs
Blocks font - Not an actual font but a buch of characters in different formats. Cool but you can only really use it with a graphics program.
Other Lego Resources
Lego color chart - handy for selecting the brick colors (rbg & ckym values) when making your own invitations with Photoshop or other graphics program
LEGO Digital Designer App - Use this app to build your own birthday scene or creat text with lego bricks. You can then save and export your creations as a .PNG file and manipulate it further with Photoshop. Illustrator or the graphics program of your choice.
Lego invitation clipart
We've created a little bit of lego clip art that you can use on your party invitations. It's a simple banner in the theme of the lego logo that reads "You're invited to a lego party". Just right click and save it to your computer and insert into a word document or whatever program you are making your invitations with.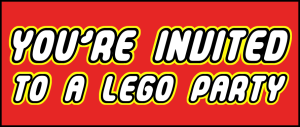 Lego party banner
Free Printable Lego Party Invitation
We got out a little lego man, took a photo and made up these cute lego themed invitations. We even made a perfect color match thanks to a Lego color chart that we found online here.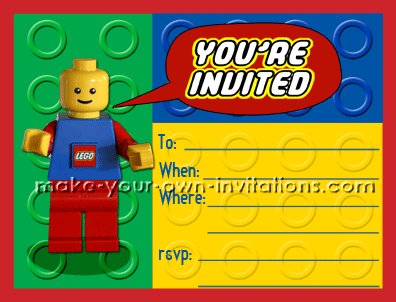 Printable lego invitation template
Simply print out the PDF download (you will need adobe reader to view this file) and fill in your party details - who the party is for, when and where the party is and the rsvp details.
Instructions
This template is free for you to use for your own personal use only.
This printable is in the form of a PDF file and will print 2 invitations per page. They are sized to fit in to an A2 envelope check the envelope sizes page for exact envelope measurements.
Download the PDF file and print off the invitation on to copy paper or firm white card for the best results.
Download your printable lego birthday invitations
Check out more of our Printable birthday invitations here
Lego party wording
Different Lego wording that you might choose to utilise on you DIY invites
Come and build a party with Jeremy
You are invited to a Lego Party
It's a Lego party
Come build with us
BYOB - (Bring your own blocks)
Join us for a special day