Washi Tape Easter Party Invitations
How perfect are these egg shaped cards for Easter party invitations. I love Washi Tape, it is so versatile to use and has a really great look about it.
So if you want easy to make invitations for your Easter picnic or lunch then these are the invites for you so get out your craft supplies create your own unique designs.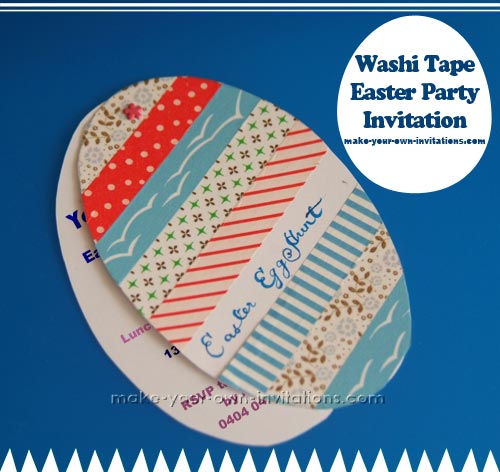 Supplies:
3 or more Washi tape rolls in different patterns
White cardstock
Scissors
A two pronged brad
How to make invitations:
1. First thing to do is to cut out two oval egg shapes from white card stock (remember that washi tape is a bit transparent and you will be able to see through to the card beneath it)
You can download an egg template to print on the internet or you can hunt around in your cupboard or home for something you can use as a template. I have used an oval photo frame.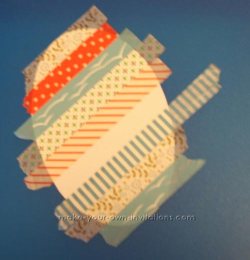 2. Now we need to cover the front of our easter party invitations. Take the washi tape and starting from the top, carefully lay down each strip of washi tape beneath the previous strip so that they line up. The best thing about washi tape is that it is not super sticky like painters masking tape. If you stuff up you can easily remove the tape without any disastrous effects.
The ends of the tape should hang over the edge of the card a little bit.
3. Take a pair of scissors and carefully trim off the excess tape overhanging the card.
4. Print off your Easter party wording onto the second card. You may choose to print your wording on to the card first then trace your template around the wording and then cut your card. You can also hand write your invite.
5. Line the two cards up with the washi tape card on top. Take a two pronged brad and insert it through both cards at the top, fold back the prongs and you are done. You are now able to open the card by sliding the top cover to the side.
Note: After fully assembling my invitations I decided to take off one of the tape strips so that I could hand write "Easter Egg Hunt" onto them. I probably could have found an inexpensive rubber stamp to stamp the words on to it... hmmmm, maybe next time. All in all I was very happy with how they looked.
Another Note: You could use strips of patterned scrapbooking paper and a glue stick in lieu of washi tape. It would just take a little more time and effort.