Baby Shower Invitation Ideas for a Girl
What do you need to make fabulous baby shower invitations for sweet little girl. A whole heap of pink of course. Well, you don't have to use pink embellishments but it is an easy way to go. These great baby shower invitation ideas and tips have been submitted by readers like yourself. We hope you enjoy looking though our baby girl collection and find something in the photo gallery to get your creative juices flowing. If you made your own baby shower invitations you can send them to us to post in the gallery along with your tips. Contact me via the contact form.
Baby carriage invitation
"Booties, diapers, baby powder.
Come join us for a baby shower!"
Materials
Rubber Stamp of a pram

Pigment Ink and pink embossing power

plain white or coordinating paper

computer and printer

Scissors, adhesives
Method
Step 1.
The party information for the Shower have been printed onto cheaper white writing paper. They were printed 12 times to a sheet as the cards were quite small (approx 3"x5"). This is a good idea to save on cost but still make for a great invitation.
Step 2.
The accent was easy to make. The impression of a baby carriage was stamped on to pink cardstock and embossed with pink embossing powder onto pink card. The edges of the card have also been embossed in pink to create this cute and inexpensive accent.
Step 3.
Cut the 25 pink backing cards to be (approx 3"x5") Stick the accent and party info to the card with double side tape or a glue stick.
Step 4.
If you want to go the extra mile you can attach a small sticky magnet to the back of the invitation to allow for it to be stuck to the fridge.
Total cost
The amount of cash spent to make 25 invitations was less than $10 including buying the rubber stamp which was the most expensive item.
Hot Tip: You can buy baby stamps from your local craft store. Look out for baby footprints, prams, rattles, booties, diapers, safety pins and a whole heap more.
Skull and Crossbones shower invitations
My Daughter had to have skulls and bones on her baby shower invites...This is what I came up with to try and make it as cute as could be...
Kelly
Scotts Valley, CA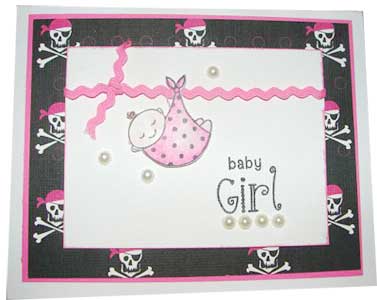 Verses and poems and other DIY invitation ideas