DIY Baby Shower Diaper Invitations
Diaper shaped invitations (or nappy invitations as we call them Downunder) are a fun and creative way to set the theme for your upcoming baby shower party. You may have already seen the outrageous pamper invitation that we also have on the site but if that seems a little too much for you then you should certainly consider making these paper folding invites. We have even supplied a template for you to use to make your own invitations.
Instructions for Homemade Diaper Invites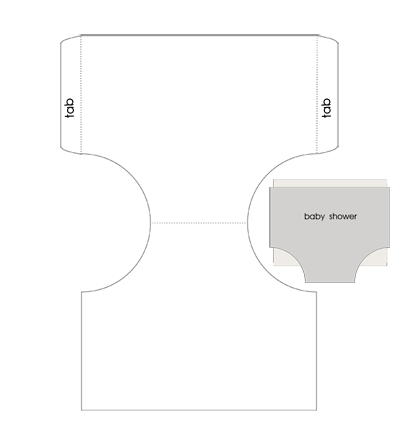 Step 1
Download the Diaper Invitation Template
Step 2
Print the invitation onto card and cut along the solid lines to create the reusable template.
Trace the template onto your chosen cardstock of choice and cut it out. fold along the dotted lines and glue down the tabs to form your diaper pocket.
Step 3
Type up your invitation details using your word processing tool. The info will need to fit into an insert 5 3/4 x 3 3/4". Do a test print on to some scrap paper to ensure you have the dimensions correct. When you are satisfied you can print them onto coordinating card or special paper.
Slip the insert into the pocket.
A cute diaper pin font is available here free at fontspace.