Best Creative Invitations for a Baby Shower
These would have to be the most unique and original Baby Shower invites ever! They are so cute. You have to love the diaper or nappy invitations (as we would say downunder) below. Be inspired by our growing gallery of baby shower invitation pictures all made by readers like yourself.
Pamper Diaper Invitations
I decided to throw a "Pamper" party for the mommy to be, as this is her second little girl. All attendees were asked to bring a box of diapers and something to *pamper* the mommy.
Wait a minute.... PAMPER! as in *Pampers* diapers! The idea was born LOL.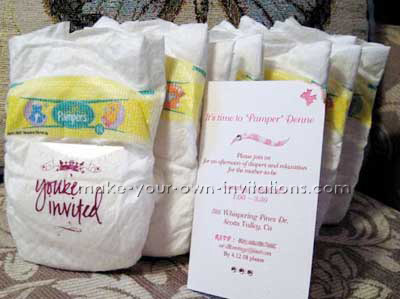 Creative invitations
Making the invitations
I bought some newborn *Pamper* brand diapers and turned them into the invitations. I printed the "You're Invited" onto transparencies, and ran through my Xyron sticker maker machine and just stuck them to the outside of the diaper.
I made a super simple card (cuz this was a last minute shower and didn't have much time to do something fancy) and used a couple of my old punches to spruce them up, with a touch of bling. (EVERYONE needs bling!!!)
I stuck the card inside the pamper diaper, and used the closures on the diapers to wrap around and close it all up. Just to make sure the card didn't slip out, I put a staple into the top to seal them.
On the other side of the diapers, I again, used transparencies to print out the addresses.
Posting the diapers
That's it! I took them to the Post Office *as is* and they looked at me strangely, but took them! They all got to the recipients with no problem!
POSTAGE NOTE: Because Debi sent her invitations a few years ago I strongly urge you to always enquire with your Post Office if you are intending to post any item that does not fall under normal postal guideline before you committ to creating your invitations.
Did you know that you can send just about ANYTHING through the mail? I've sent
Whoopie cushions

Inflated beach balls

Rubber chickens, (wrote the address on the chicken's belly) and even a

Blown up Pink Flamingo
across the country with no problem, postal guidelines change regularly though so you should always check first.
It's super funny to see the Post Office employees reactions when I bring strange things in. They do charge a small handling fee, but it's totally worth it! (oh... and once, when ds came home for a visit from college, I found a dirty sock he left behind...so I took out a sharpie pen, addressed it, and took it to the post office. THEY TOOK IT! hehehe...
Anyway.... The Pamper Invitations were a big hit!
Debi Boring
Santa Cruz, California