Make Baby Shower Frog Invitations
Make your own frog baby shower invitations. For the little one who will be hopping along very shortly. Try one of these very original baby shower invitation ideas. They are sure to be a hit.
Froggy Invites
I had been looking and searching everywhere for some cute frogs for an invite. I used Cloud 9 baby boy line, They have a piece of paper that is sparkly frogs. I cut out one of the big frogs for the front of the invitation. I used some velvet ribbon and a safety pin. The "it's a baby shower" is a stamp, but I can't remember who makes the stamp. The invitation is 4 1/4" x 5 1/2". I covered card using two of the prints, each strip is probably about 2 1/8 x 5 1/2. The ribbon goes in the middle over the join of the two papers. I matted the frog on some of the paper.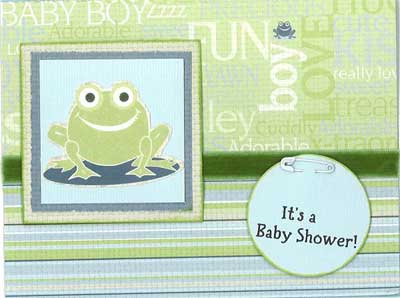 Frog invitation