Die Cut Baby Shower Invitation Cards
Die cuts can be used to quickly assemble your baby shower invitation cards. you can buy them ready cut from your local craft store or department store, you can also find is a large selection of handmade die cuts on ebay. If you have access to a die cut machine at your local scrapbook store you can usually use it for a minimal fee. Punchies are also a easy way to make an invitation accent but the choices are limited.
Bottle, carriage and expectant woman cards
I used bazzill for the base of all three of these invitation cards. They were cut to 4" x 5.5" And I used my Cricut die cut machine and the 'New Arrival' Cartridge for the designs.
Gina Ortiz
Los Angeles, CA, USA
Pregnant Woman Invitation:
Sheer swiss dot ribbon, flowers from the 99 cent store (but can use Prima Marketing Flowers) and the textured white paper was from an art store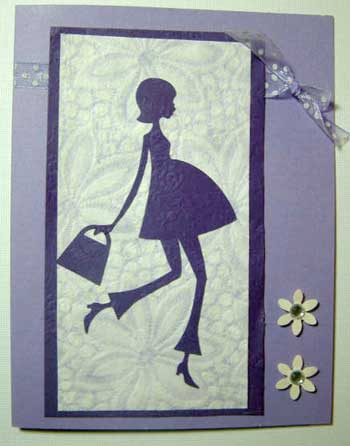 Baby Carriage Invitation Card
Inked the edges of the card and die cuts using Archival Ink color Sepia. Added ribbon, trim and brads (tire centers). For photo corners I cut a square piece of paper into 2 triangles and then cut a small triangle from the center of each of the large triangles.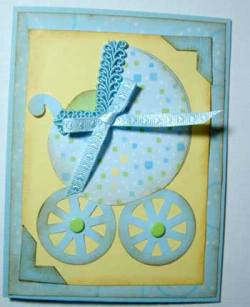 Bottle invitation card
Inked edges using Archival Ink color Sepia. Added plaid bias tape, a pink Prima flower and some bling.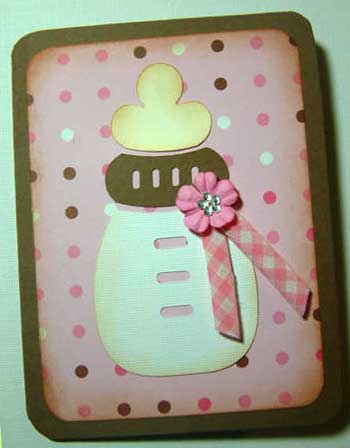 Onesie Invitations
The little boy onesie was made using a Accu-cut die (NC615) from my local scrapbook store. I put a rub on on the inside back neck area that said 'sweet baby'. I makes it look like a product label... so sweet. I did a little altering to this paper, like the dots around the neck and arm and added the sweet boy rub on, but it was already so beautiful that it didn't need much. Thanks for taking a peek.
Frankie Hebert
Foster City, California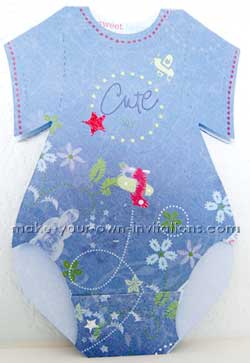 Hand Cute Embellishments
I was asked to make these invitations for a surprise shower for a very dear friend (she loved them) Her colors are brown and turquoise. I did my own printing and layout. I hand cut all the little brown preggo women was able to get 30 preggers out of one sheet of 12 x12 (no cricut yet). I found the brown ribbon at Michaels in the dollar spot. I made 65 total and yes those little preggo women took me forever to cut.
Brandy Seitz,
Urbandale, Iowa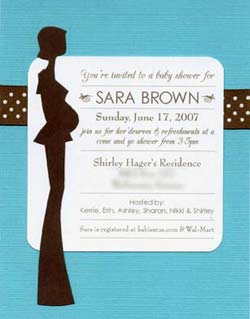 Check out our other DIY Baby invitations and ideas