Unique Baby Shower Invitations
Try one of these very original baby shower invitation ideas. They are sure to be a hit.
Diaper and note card
This was made with an accucut die (NC234) at my local scrapbook store. The finished size when the diaper is folded is appox. 4x6". I cut it out using vellum paper and embossed the edges of the diaper with a Lasting Impressions embossing plate. Inside I used a sheet off a store bought memo pad and stamped on the top and bottom of it. I was doing this for a sample board at my local scrapbook store on ways to use the dies. I think this would be great for a baby shower invite or to welcome a new baby. A gift card could be used in the diaper instead of an invitation. The safety pins were from a Quickutz die. Oh, and the diaper also opens, so it could be written on and used by itself as an invitation or baby card.
Frankie Hebert
Foster City, California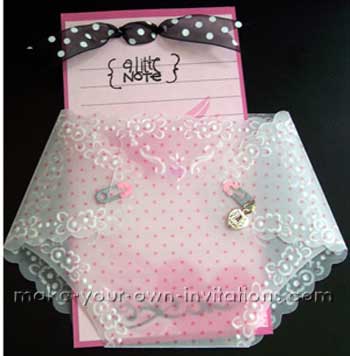 Princess Onesie Invitiation
This card or invitation was also made using an accucut die (NC615) from my local scrapbook store. The selection of double sided paper is perfect for making these. I added some rubons, a little lace on the backside, some ribbons, a little bling and it was pretty much done. Very easy to make. The front flap is held together with the small basic grey magnets so that it can be opened and closed more than once. The finished size of this invite / card is appox. 5x7". Thanks for taking a peek.
Frankie Hebert
Foster City, California