Monkey Baby Shower Invitations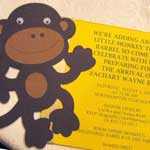 Laura has used a Cricut machine to cut out the monkeys on these hand made baby shower invitations. It is basically a handy electronic die cuttng gadget for card makers and scrapbookers to use with a computer to cut out different shapes or what they call 'die cuts'. Of course not all of us have access to a die cut machine like this so feel free to cut out your own hand drawn pictures or find an easy 'monkey template' online. You can purchase little monkey die cuts on Ebay for a reasonable price. Check out this link and see what you think.

Let's check out Laura's Monkeyvites.
I started with the invite which I cut from my cricut (new arrival cartridge) the monkey in blackout and silhouette. I popped some google eyes that you can get from any craft store to add a bit more punch to it. I also added ribbon to the edge to help tie in all the colors for the party.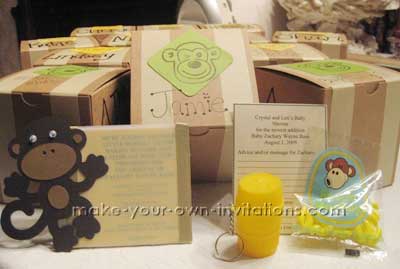 I typed up the invite information on to some white card. I made sure that the dimensions of the card would fit good with the height of my monkeys. It was just a 1/2" shorter than the monkey shapes.
I wanted to make this a super wonderful invite so bought small boxes at Michaels craft store and added tape around them to make them look like crates.
To fill the crate I bought from Oriental Trading mini monkey barrels and only left 3 monkeys inside since this baby shower was for the third baby. I bought banana runts from them to pop inside the crates.
Each of the Monkey Crates were either hand delivered or mailed the packages. add a touch of crinkle paper into the top of the box and when your guest opens them they will be in for a wonderful surprise.
I got calls for days about these invites and compliments from many online so if you plan ahead and take your time you can make these too.
Designed by: Laura Bass from Texas
Dragonfly Scrapbook Co. Designer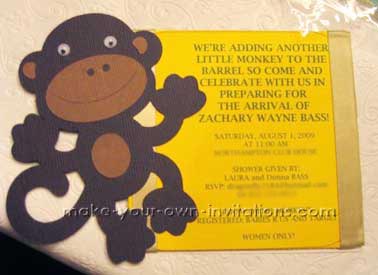 Monkey Invitation
Related
More Monkey Baby Shower Invitations
Baby Shower Invitations ideas