Make Twins Baby Shower Invitations
Baby shower invitations for the soon to arrive twosome. Browse through our gallery of photos and ideas to help inspire you to create the perfect invites to suit any occasion. You are limited only by your imagination...
Submit your homemade invitations via the submit form if you would like to submit your handmade invitations to this site.
Simple Baby Shower Invite

I made this baby shower invitation for my friend who was expecting twins (she just had them a few weeks ago). I made sixty so I kept them super simple.
Ashley
Seattle, Washington
The flowers used on these invites are Prima Flowers. They are made from thick mulberry paper and you can purchase them in bottles with around 120-170 flowers in them depending on the type of flowers you buy. They are a great embellishment for invitations and are very easy to work with.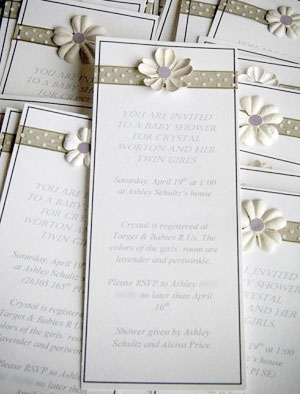 Monkey Piggy Invitations - for a boy and a girl pair
I made these custom Monkey-piggy invitations for a set of twins for their first birthday party. I love how they turned out.
I drew the monkey and piggy, cut each out of cardstock and colored them in. I then took this part to Kinkos and used their color copier since there was no way I was going to cut and color 140 little monkeys and piggies.
I stamped each of the polka dots individually on every invite. Then stitched them on the sewing machine with heavy thread.
The party info is on the back. Thanks for looking.
Bethie
South Orange County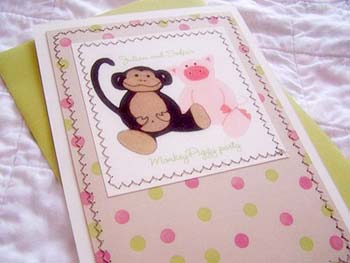 Return from Twins Baby Shower Invitation to baby shower invitations