Homemade Graduation Open House Invitations
Invite all your friends and family to a graduation open house celebration to honor your milestone achievement. You don't need to go out and buy standard generic invitations, You can simply put your creative instincts to the test and make your own party invites.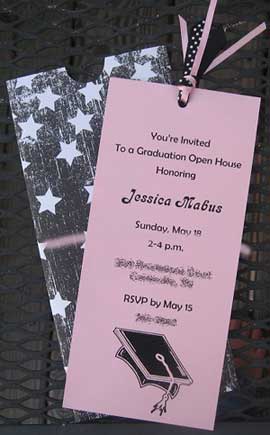 These invitations have been put together with a little bit of cutting, pasting and gluing.
Make a pocket from cardstock - scrapbook papers have a huge range of different designs, so you are sure to find something suitable. Wait for your craft stores to put these items on sale for a real bargain. See our Pocket Invitations tutorial to see how you can create homemade pockets.

Print your Open House party information onto a length of card that is cut so it will fit into the pocket (printing before you cut will get you 3 or 4 invitations per sheet. Be sure to include all the pertinent information.

Find some appropriate Graduation clipart for the bottom of your invite - a graduation cap works well, or a grad bear, try to find an image of the mascot for your college and incorporate that into your invite.

Punch a hole at the center of your invitation about a 1/2" from the top. Cut 2 or 3 lengths of coordinating ribbon, thread them through the hole and then tie them off. Slip your invitations into the pocket and you're ready to post off to your guests.
Made By linda francois
Cookeville, TN
Graduation Invitation Verses
You're Invited
To a Graduation Open House
Honoring
Jessica Sandor
Sunday, May 12
2-4 p.m.
1234 Halberg Road
RSVP by May 15
more graduation invitation wording samples
Our printable open house graduation invitations
If DIY is not for you then don't worry, we have a range of affordable printable invitations for your Open house party.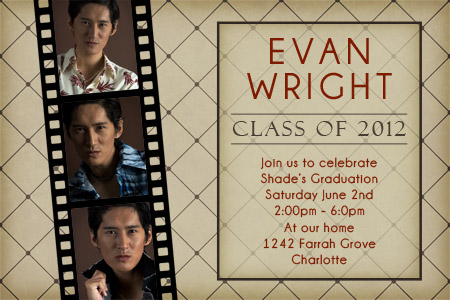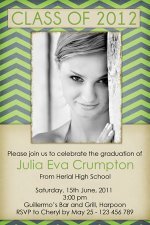 Custom Photo graduation open house invtiations