How to Make a Pocket Invitation Card
DIY Pocket Invites are super easy to make. As you can see there are many different styles of pockets that you can create. We have created this tutorial to make a very simple invitation.
The pockets for the invitations that we are making in this tutorial are cut from a piece of US letter paper (8½"x11") Each sheet will make 2 pockets.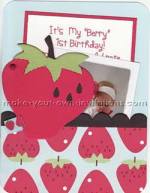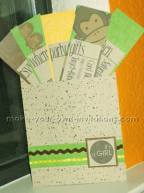 Materials
1 piece of 4¼" x 11" cardstock or patterned card (obtained by cutting a piece of US letter paper or A4 paper lengthwise)

craft knife or scissors

scoring tool - (creates nice crisp folds)

double sided tape (thin approx ¼" or smaller)

Paper trimmer (makes the job easier if you have a lot of straight cutting to do)
Step 1 - making the pocket

Take your piece of 4¼" x 11" cardstock and score two folds lengthwise. The first at 1¼" and the second at 5½ (halfway)

Note. US letter paper is 8½"x11". So you can use on sheet of US letter to make two pockets.

Step 2

Fold the card in half along the scored line.

Step 3

Fold back the short decorative trim flap.

Step 4

Run some double sided tape along the two inside edges of the top card and stick it to the bottom card. Try to stick the tape as close to the edges as you can.

Step 5

Decorate your pocket as you wish. You can use ribbon, buttons, die cuts, scrap bits of card left over

Step 6 - creating the inner tag

Create your insert tag card to be 3½" x 5" If you are going to print on your card then do so before you cut them. You can fit 4 cards on to one sheet of 8½" x 11" inch paper.

You can also choose to embellish either or both sides of the tag.

Step 7

Pop the card into the decorated pocket.
Hints and Tips
Make a landscape styled invitation pocket card with these dimensions.
- 8½" x 5½" cardstock for the pocket
- 7¼" x 2 3/4" card
Note. Fold the card at 2½". This card will not have the decorative trim flap. You can make two invitation pockets from one sheet of 8½" x 11"

Use a corner rounding punch that you can purchase from your craft or scrapbook store to round of the top corners on your pocket and card.

Put the invitation details on the card insert or put them on the pocket.
Other types of Pocket Invites and tutorials
More Pocket invitation examples