How to make Pocket Wedding Invitations

A pocket invitation is a stylish way to make your invitation. Apart from assembling the pocket you will find these pretty easy to make, especially if you are planning to print on to card for the wedding invitation itself. Put a paper wrap-around and tie some string or ribbon around it as well. Add a charm or keep it as is. The possibilities are endless.
Elegant Pocket Invitations
Tips for making your own invitations: Invest in a good paper cutter, double sided tape is often better than glue sticks, great invitations take time. I'm a graphic designer so i use a lot of my own artwork. I'm also a font nerd so I have a lot of typefaces to choose from. I seek out independent paper stores that often carry unusual, handmade stuff to make the invitations one of a kind.
krp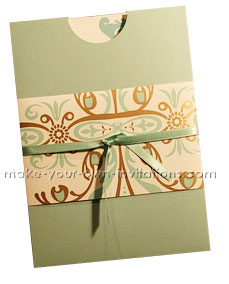 How to make wedding pocket invitations
Materials
Cardstock and coordinating patterned paper

Satin ribbon

A round punch with a diameter of at least 1" (optional)

pocket invitation template (makes a 5½" x 4¼" pocket which will fit in an A2 envelope)

Craft knife, scissors, adhesive - double sided tape
Step 1.
Print out the pocket template on to cardstock to make our pockets. Trace the template onto your cardstock and follow the directions on the printout to make your first pocket. If you want to use your own circle punch to create the semi-circle cut out then do this before you stick the pocket together. I recommend that you use a circle punch for a nice clean and even cut. If you do not have access to one then you should consider a square cut out instead that can be achieved with a straight edge (or ruler) and a craft knife.
Step 3.
Cut a bally wrap strip of coordinating paper measuring 9¼" x 2½". Wrap this strip around the pocket and stick it down at the back with double sided tape.
Step 4
Embellish the pocket by tying a length of ribbon around the pocket and tying it in a knot or a bow at the front.
Step 5
Create Inserts for your pocket. These should measure no larger than 5¼" x 4" for a comfortable fit. Make them by hand or create a design with your computer that you can print out.
Use a round circle punch or a square punch to cut out the top tab.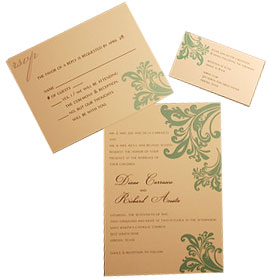 Flourishes and swirls make for beautiful wedding designs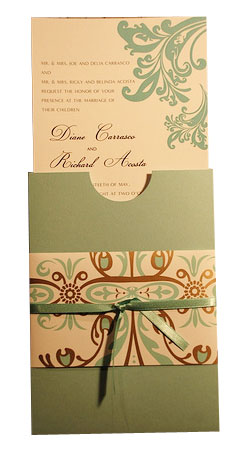 A wrap-around or belly wrap and some simple satin ribbon has been used to finish of this elegant design.
Related Links
How to make a pocket invitation
Printable pocket invitation templates