Make 1st Birthday Invitations
Cute 1st birthday invitations for your baby made by readers just like yourself. If your little one has their first birthday coming up then you will be glad that you have found our growing photo gallery of handmade invitations. For a small price and a lot of fun you can make your own party invitations with a little inspiration that you will find right here on this site.
First birthday invitation ideas
Make a photo invitation - If you have a photo program you can use it to make your own invitations. Go out and take a photo of your little one and add your party details to the photo. Take them to your local photo lab and have them developed for around 20c or less.

Make a pocket invitation like the strawberry invites below.
1st birthday invitation wording
Come join the fun, Alexander will be one!
See more first birthday invitation wording ideas that you can use on your homemade invitations.
DIY first birthday party invitations
Here are a few hand made invitations. Click on the link to find out more about how each invite was made and maybe you can give it a go yourself.
A Poem and an invitation
I thought I would see what I could do with my first ever hand drawn invitation clipart image that I made especially for make-your-own-invitations.com and this is the end result. Birdie clipart + a poem + '1942 Report' font + this gorgeous bamboo green background which co-ordinates perfectly with the birdie = 1 cute 1st birthday invitation.
Birthday Poems: I had a look on the internet for some poems for my invite and found a website with some nice 1st birthday poems not to mention a whole heap of other birthday poems.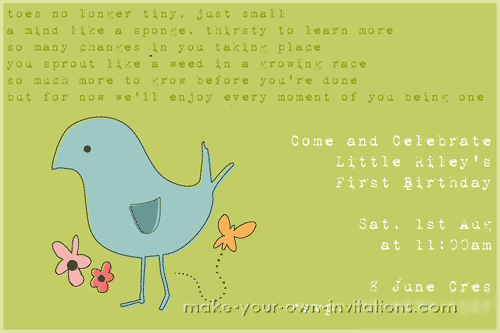 Jackson's 1st Birthday Invitations
My mom made these very simple layered birthday invitations for our son Jackson's first birthday. She bought some pale blue and green striped papers and firm construction card from a card making store that were on sale.
It has two layers of paper and a stamped decoration
the bottom is a plain peach card stock (8" x 4½")

the top is a light colored patterned paper. (slightly smaller than the bottom card)
- She printed the information onto this paper with Word and her desktop printer.
- The font was free from dafont.com

Once printed she then matted this onto a piece of 8" x 4½" peach colored card stock.

The moon character at the bottom was hand stamped with a wooden stamp from the store onto white cardstock and has then been colored in with water color pencils (any colouring pencils will do)
- The moon was adhered to the invitation with double sided pop tape.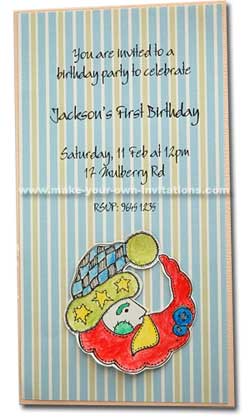 Layered invitation
Digital photo invitation
I took a cute photo the other day of my DD playing peekaboo and I got the idea to use it in a digital photo invitation made with Photoshop elements which was bundled software with my laptop. The background was very distracting, so I tried to make it blurry with the blur tool.
I printed them cheap!
I got them printed online at Snapfish.com. They often have good deals and photos cost around 9c. Because I was a first time customer I actually got my first 50 prints free with this deal - Upload your digital photos and get 50 FREE prints!
- so all I had to pay for was the postage (I could have also saved on postage by picking them up from the store which was near my home)
Made by Stacey Anna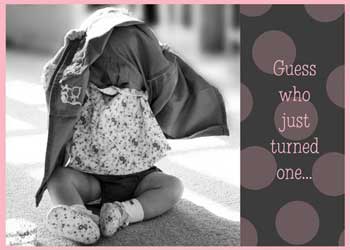 photo invitations
Grab a customized photo invitation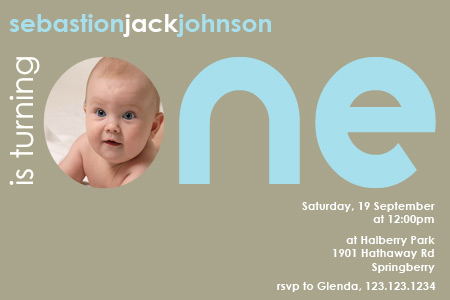 If you want inexpensive invitations but do not want to make them yourself then take a look through our range of customized photo invitations.
We will make an invite with your party details. We can also add a picture of your child if you'd like. We'll email you the invitation as a .Jpeg file that you can print yourself at home on your home printer or you can get them printed at a local photolab on matt photo paper.