How to Make Pocket Fold Invitations
These kind of invitations are very popular for weddings and other occasions that require a few extra bits and pieces like a map or an RSVP card. There is room enough for the invitation and the extra inserts can be safely tucked away until required.
This is a simple pocket fold invite with minimal embellishment.
Materials
4½" x 12" strip of cardstock (pocket fold)
4½" x 2" strip of coordinating patterned paper
4" x 5¼" strip of coordinating cardstock (invitation insert backing)
3¾" x 5" strip of card for the invitation details
paper trimmer or scissors, ruler, adhesives (either double sided tape or a gluestick will do)
Computer and printer to print off your invite details unless you are hand writing them.
Take the 4½" x 12" strip of cardstock and score a fold from the top at 4½" and again at 10"

Fold the two outer flaps in in toward the center of the card.
Take some double sided tape and run it down the side of the edges of the 2" flap. Alternatively you can use a glue stick.
Stick the flap down to form the pocket for our invitation.
Take the 4 1/2" x 2" embellishment strip and fold it in half lengthwise. Use your glue stick or double sided tape to adhere it to the top cover flap of the invitation.
When it is all stuck down you can set it aside for now to create the invitation insert.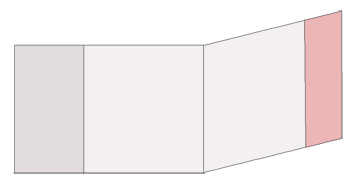 Now you should have already printed your invitation details onto the 3¾" x 5". Take this and adhere it to the center of the 4" x 5 1¼" backing card.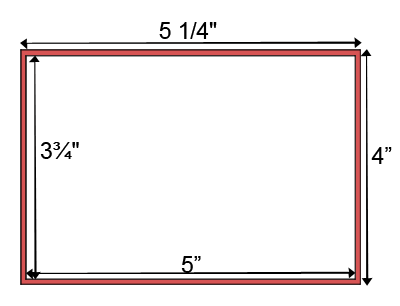 Pop the card into the pocket and you are ready to go.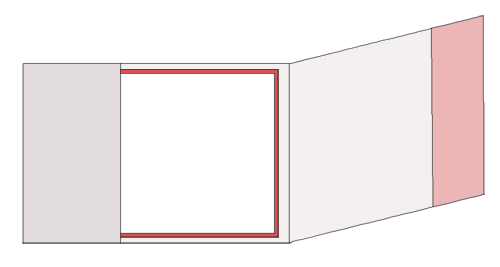 Extras
If you want to create more inserts to place inside the pocket then create them exactly half an inch shorter than the previous insert for a cool layered effect.

Tie a ribbon or piece of embellishment cord around the front of the pocket fold in the center of the patterned paper embellishment (the pink paper in the diagrams above)

Create a decorative edge on the pocket flap. You can use decorative scissors, rip the edges carefully or adhere a strip of patterned paper.

Vary the size of the invitation, you can make a 8¼" x 3½" invitation insert in a slightly larger pocket.
Return from Pocket Fold Invitations to home