Graduation Invitation Verses and Poems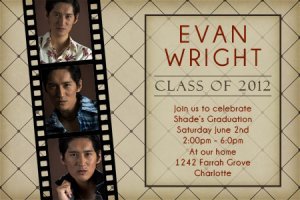 If you need a graduation invitation verse for your homemade or custom invitation you can feel free to use any one of these graduation verses with your hand made invites. It's a unique little way of making your invites truly stand out and grab everyone's attention.
These sweet poems and verses are perfect for any photo graduation announcement, ceremony event and open house party.
This first graduation poem is intended to be funny, and make your guests laugh.
Finally Done
All of my hard work,
has finally paid off.
To extend my weekends,
I mastered the cough.

Please buy my textbooks,
they're nearly brand new.
Did you know that 1 + 1,
is occasionally two?

I'm truly glad,
that I'm finally done.
Now I can spend,
more time in the sun.

I'm not saying,
that I've become lazy.
But all this studying,
has made me a bit crazy.

Just one more thing,
before I simply forget.
You're invited to a party,
the date has been set.

The location and details,
you may read right below.
Please don't forget,
to bring lots of dough.
Now let's take a look at the next graduation invitation poem. This one is meant to be short, simple, and effective.
My Graduation
I'd like to invite you,
to a celebration.
It's with regards to,
my graduation.

My joy and excitement,
I cannot deny.
With my new diploma,
I shall reach for the sky.

I know you will be there,
happy and proud,
Clapping and cheering,
and being all loud.

Thanks for your support,
it means a great deal.
Seeing you there,
will be truly ideal.
This poem mentioned one of the most important factors at any graduation. I'm talking about the support of family and friends for the graduate. It's always nice to be there for others when they've reached an important milestone in their lives. Graduations are no exceptions.
We all know that high school graduations are a pretty big deal. For that reason, the next invitation poem is for all those high school graduates, when they're inviting guests to their graduation.
High School Celebration
An interesting adventure, has reached its conclusion. I learned about history, and atomic diffusion. Many friendships,
began and evolved.
Issues and problems,
experiences solved.

This life of mine,
has arrived at a stage.
Where it's time to move on,
to an exciting new page.

I shall smile and nod,
as I look back and recall.
All of those memories,
in class and the hall.

I hope you can join me,
on my graduation,
as we create new memories,
with this celebration.
Alright, so that was a fairly straight forward high school graduation poem. The next invitation poem is for all of those college or university graduates out there.
Joyful and Bright
I'm about to receive,
my college degree.
After all of those years,
I'll be holding my key.

This key shall open doors,
to an exciting career.
With your support,
I have nothing to fear.

My real education,
has merely begun.
My passion for learning,
will never be done.

My knowledge and experiences,
I will openly share.
For the progress of humanity,
I naturally care.

To my college graduation,
I sincerely invite.
With your presence,
it shall be joyful and bright.
I hope these graduation verses enhance your invitations. Best of luck.
You might like