Princess Castle Invitations
A royal invitation to suit a princess or prince themed birthday party. This invitation has had the text printed, the castle artwork stamped and colored in and then layered on to coordinating colored cardstock. Read on to see how it was made.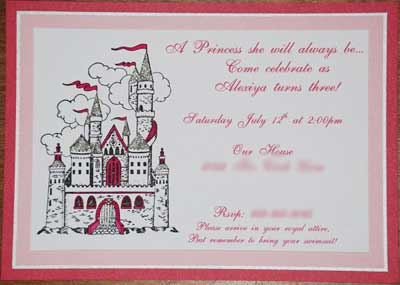 Homemade Castle invitation
Supplies
Princess stamp of your choice, the one I used is Inkadinkadoo
Black stamping ink
Dark pink cardstock
Light pink cardstock
Silver cardstock
White cardstock
Pink markers (2 different shades)
Glitter gel pen (silver, pink or clear)
Computer & printer
Paper trimmer
Glue
Directions
To start, you will want to format all your wording on the computer. You will be printing it onto 4x6" card so make sure that it fits within these dimensions- leave space for the stamped image.
Cut your white cardstock into 4 x 6 inches. Then print all the wording onto the white cardstock (this will be trial and error, don't worry if you mess up a few times).
You can now stamp your image onto the white cardstock as well. You will want to let this dry for a couple hours before you color it so that the markers don't smudge the outline. I used black ink for the castle image and colored it with dark pink and lighter pink markers.
I then filled in some spaces with the silver glitter pen just to give it some "bling" to tie in the silver cardstock (you will want to let the card dry again after this step).
Now that we are finished the top card layer, next is the light pink layer. That is cut to 4 ½ x 6 ½ inches. The silver was cut to 4 5/8 x 6 5/8 inches, and the dark pink was cut to 5 x 7 inches. After all the cutting you will need to glue everything together.
Then you are done! These take a long time to complete because you have to color everything in and let it dry etc…but they are worth it in the end
Made by Dawneika Barker
The Castle Drawbridge
Now this special drawbridge invitation has the castles all drawn and cut by hand. Patterned scrapbooking paper is used for a splash of color in the windows, the drawbridge and turrets.
A photo turn is used to hold the draw bridge up and when the drawbridge opens, it reveals the birthday party details. This design is copyright to the designer, you may use it for personal use only.
Karen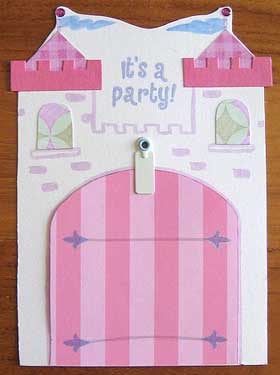 See also