Paper Prince Invitations
This sweet 1st birthday invitation was made by Cathy Purdy a crafty and talented card maker. What she has done here is mixed some pre made cards with her own embellishments and special touches to personalise the card and make it unique.
How she did it
Step 1
Get a photograph of the birthday boy. Cathy says that this was the trickiest part of the whole process. After 3 days of taking photos she was able to get the snap she wanted. Print off your pictures cut out the image and set them aside.
Step 2
Purchase some premade note cards. Cathy purchased some super cheap note cards from Michaels that already have a design printed on to the front. The cost her $1 per set of 8.
Step 3
Print your party info. You can either print your details on to a separate piece of paper and stick it to the inside. This is certainly the easiest option as you are less like to stuff it up. Cathy has taken the extra time and effort to print straight on to the card itself. You must do some test prints on to scrap paper or cards (cut to the right size) to get the dimensions right before you print the real thing.
Step 4.
Putting it all together. All you need to do now is to grab your preprinted card, photo and any embellishments you have to add - (in this case we have a crown charm for our little prince) Adhere the photo to the front of the card along with the princely crown and you're all set.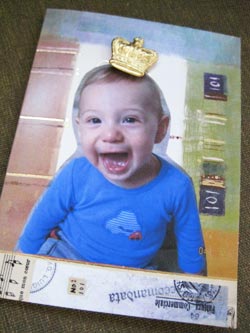 Birthday Prince Invites