Monster Halloween Invitation Cards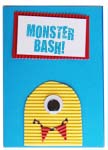 Monster party's are great. Love all the different inspiration available for throwing a great monster bash. We have a simple invitation that we made for our dd's sixth birthday party, Her birthday falls a week before Halloween so this year she wanted a Halloween-Birthday party. The most kid friendly theme that we found appropriate was a Monster Party. We looked at all the different monsters from movies, books and the toy shop. We really liked the idea of a one eyed monster. (we thought of 'Where the wild things are" but they were a little to scary for our little ones. Her birthday cake will be in the image of the invitations - a blue cake board with a yellow monster, I can't wait to make it!
Materials to make invitation
Craft toy eyes

Card in different bright colors - I bought a pack of brightly colored corrugated cardboard. The colors were really vibrant and the texture was cool

Scissors and glue

Monster Bash rubber stamp or computer and cardboard

Black sharpie / texter
Invitation assembley
Cut and fold the blue card for the base.

Cut out your monster shape from yellow corrugated cardboard and position it at the bottom of the card in the middle.

Carefully position and glue your eye onto the monster shape. You may need to fill in the groves on the monster first to ensure it sticks properly.

Draw on a smile with the black sharpie marker. Cut out small triangle fangs and stick them to the card too.

Cut out a rectangle from the red cardboard and center it near the top of the card.

On your computer print up the words 'Monster Bash'. Cut it out a little smaller than the red rectangle and glue it to the red card.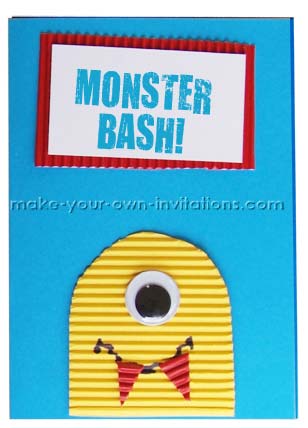 Completed Monster Invitations
See Also
More Halloween Invitation Cards and Ideas
DIY Birthday Invitations