Pocket Halloween Party Invitations
These cute little invites have their own little envies that go along with them. They were made with Junkitz Halloween scrapbooking papers. I used the Cricut Doodlecharms cartridge and used the envelope and cards features to make them... they were really pretty easy and simple...
If you don't have a Cricut then you can make your own envelope template and trace it on to your choice of patterned paper. Cut the envelopes, fold them up and get them ready for the card.

Cut your card out of the same or coordinating card. Cut the top with decorative scissors for a more interesting look and if you wish, use a decorative punch to to make a cut out on the bottom.

Use your word processing software on your computer to create the invitation wording, print on to plain copy paper and stick to the card.

Slip the invitation in to the envelope and seal it if you want. You can leave it open to make a pocket invitation and hand out to your party guests.
Lora Brinkman
Columbia, MO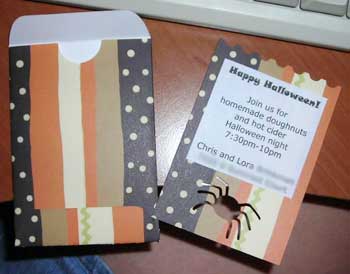 More Halloween Party Invitations + ideas