Simple Bat Halloween Invitation Idea

Halloween Bat Invitation Idea
This Halloween invitation idea is easy enough to make with only the basic cardmaking materials required. The invitation design is a black bat attached to a piece of string or twine along with a small orange tag. It will definitely get your guests into the Halloween frame of mind.
All that you need to make this invite is
Black construction card

A bat template - you can draw your own or google for a bat image online

Orange tags or you can make some tags with orange cardboard

White copy paper to print or write your party details on to

Craft knife, hole punch, scissors, glue stick, string

Stickers to decorate
Trace your bat shape onto the black card and cut it out. Glue your invitation wording to the back of the bat. You can send it as it is now or you can add further embellishments like stickers and glitter etc. Cut a tag out of orange card and punch a hole in it. Punch a hole in the bats head at the top and center. thread the bat and the tag on to a piece of thick string. Post it off to your guests.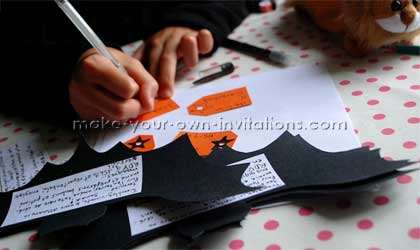 Bat invitations for Halloween
Back to see more Halloween Invitation ideas