Spooky Eyes Halloween Party Invites
With Halloween around the corner you had better get your invitations organized, especially if you plan to make your own hand made invites as you will need to allow for the time it takes to put them together, address the envelopes and post them off. I would aim to start on your invitations near the beginning of September so that you are well prepared by October.
These spooky invitations are very simple to make and require very little supplies to make them. You can even get the kids to make them.
Supplies
Black construction card or other card stock

White stickers

White and black paint for the eyes, you can also buy some small googly eyes instead. They actually look way better and I did intend to use some but when I went to raid my daughters stash she had run out.

White gel pen to write the party details on the inside of the card.
How to make them
Fold your black card in half and score the fold with a boning tool or the back of a dinner knife.

Form the words 'You're Invited' on the front of the card with the white stickers.

using the tip of your finger, make 4 or 5 pairs of eyeballs with the white paint and wait for them to dry. Use a small paint brush to paint black dots in the eyeballs. If you are using googly eyes then you can glue them to the card with pva glue.

Write your party details on the inside with a white gel pen. Alternatively you can print your party details on to white paper a little smaller than the card itself and then adhere it to the inside of the card with a glue stick. See some of our halloween invitation wording ideas.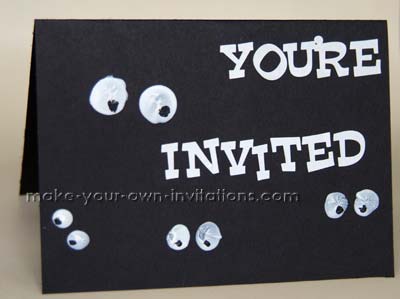 Completed spooky invites
Hot Tip
To make the eyes on this card to the right, I used the center stickers of the letters 'O', 'D' and the number '0' that came from the white alphabet sticker sheet that I used for the text.
for the pupil a just hand drew them on with a black permanent marker pen.
I liked the way that these eyes looked and there is a good variety of different shapes in the alphabet.
More Halloween Party Invites and Ideas