Halloween Witch Invitation Cards
I made these invitations for my daughter's 6th birthday which was a costume party.
The card
I used halloween paper and colored cardstock to make the flat post card style card. I cut a yellow card and matted a purple card on top and distressed the sides with a distressing ink.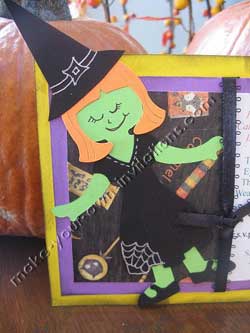 The party information was typed and printed and matted onto the purple card along with some patterned halloween themed paper.
The accent ribbon is tied around the top purple cardstock sheet.

The Witch accent
The witch is made fromSizzix die cutters. The hat was hand cut and all silver hat, face and spiderweb details and were hand drawn.
Body: www.sizzix.com/product/455

Dress: www.sizzix.com/product/458

Hair: www.sizzix.com/product/456

This invite was super easy to make. Made the little poem up...

Birthday Invitation poem
Double, double toil and trouble
Fire burn, and caldron bubble
Calling all Witches, Goblins and Ghosts,
Isabel will be your host
Trick or treat, birthdays are sweet
Eyeballs and worms, plenty to eat
The fun begins at quarter past four
Wear your costumes to get through the door.
Made by By Lisa Lamb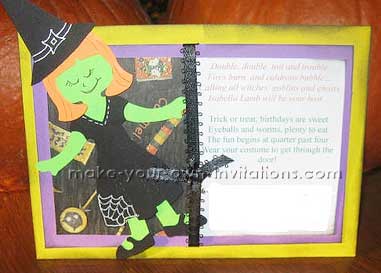 Completed Witch Party Invitations