Make Scary Halloween Invitations
These scary Halloween invitations are pretty easy to make. Sending your guests a box full of creepy eyeballs is definitely a fun way to invite them to a party. Imagine the looks on their faces and the fun the kids can have playing with their fake eyeballs.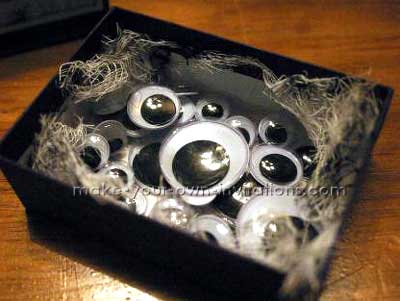 Googley Eyes in a box Halloween party invitations
Materials used to make these invitations
Cheese cloth

small black boxes (if you don't have black you can paint them

A bunch of googley eyes (20+ eyes per box is good)

ink, tape, copy paper to print the invitation details on to
Put them together
Take the cheese cloth and stain it with the brown ink, you might try red colored pigment for a bit of blood. Line the box with the cheesecloth.
Fill the box with eyeballs - make sure the bottom of the box is covered
Measure the inside of the lid and create your invitation wording on your computer to fit. Print, age it with tea or distress it with ink and glue to the inside of the lad.
Put the lid on the box and send it off to your guests. you may wish to hand deliver your invites.

Eyeball invite with wording in the box lid
Halloween invitation wording
For this kind of invitation we used wording and repeated the word 'eye' a lot.
"Eye" hope you can come
to our Halloween Party
When: Oct 30, 2010
Time: 6pm
Where: Our house
12 Harris road, Sydney
"Eye" hope to see you there.
Made by Hope Fout
Back to see more Scary Halloween Invitations