Unique Halloween Invitation - Crochet Vampire Bat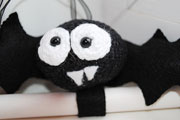 Try this very unique Halloween invitation idea. It is more the system used to deliver it than the invitation itself that is the key to making it an original and a must have this Halloween. A hand crocheted Vampire bat with a scroll in it's clutches designed by Renske... very cool indeed.
These little bats were hand made using a combination of crochet and sewing so you may have to brush up on your crochet skills. the bats body is crocheted with wool and black felt to form the wings which are sewn on. The finished bats are approx 2x5.9 in in size.
What you need to make them
Black and White wool

Black Felt

Vampire bat pattern - from the FungandFang Etsy store for only $3.50. You also receive a free printable Halloween invitation that you can print at home.

needle and thread, scissors
Following the pattern you will crochet the body then sew the felt wings to the body. You also sew the felt loop below the body to hold your invite. Print out your invitations on paper (not card as it is too thick) roll them into a scroll, nice and tight and then slip it into the loop.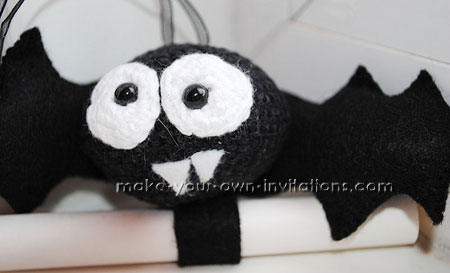 Crocheted Vampire Bat Invite
Hot Tip
Once your guests have received and graciously accepted your party invite they can use the little bat as a decoration for their own home.
More Unique Halloween Invitation Ideas