Western Invitations - Wanted Posters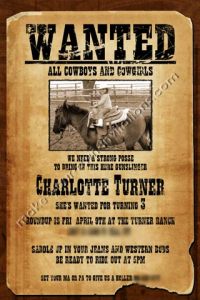 Here are a few examples of the wanted poster invitations that we offer as a printable invitation. We thought they would be helpful for choosing your own wording for a cowboy or cowgirl themed invitations as well as give you some tips for taking photo's for use with our invites or for your own DIY wanted poster invites.
Tips for taking your photos
Any photo that you take will be fine, but there are a couple of simple things that you can do to set the tone for a western shindig.
Clothing and props
There are plenty of clothing choices and props for a cool photo. Try any of the following options on their own or a combination if you are able to. Remember that you do not have to be a fully dressed cowboy to take a great picture for your invite so don't worry if you only have one item below available.
A cowboy hat, a stetson or similar type of headwear. This is by far the easiest option. You can find cheap has from dollar stores, toy stores and department stores. If your child is a cowboy fan he will no doubt already have one somewhere. Good for a head shot.

A bandana tied around your neck or tied around your head so that it covers your mouth in true bandit style. Add a toy gun and you'll get a great shot.

Cowboy boots - if you got em, wear em!

A pair of jeans - everyone should be able to get their hands on a pair.

A collared button up shirt (preferably long sleeved) If you have a vest then put that on too. A trench coat or overcoat can be worn too. A plain tee shirt is good with a pair of jeans. A checkered shirt is good too.

A horse is a great prop - If you can't get your hands on a real one then a toy one will suffice. A rocking horse or a riding Stick Pony.

Other accessories you may have about the house that can be of user are: a sheriffs badge, a rope formed into a lasso. A poker for the fire can be made to look like a cattle brand, tools of the trade for a cattle rustler.

HOT TIP - Remember that if you choose to colorize your photo in sepia mode (or black and white) Then the color of your clothing isn't important.
You can mix it up with a pair of blue denim jeans, a fluoro pink shirt, a hideous puke green vest and an orange cowboy hat. The photo will look terrible in color but in sepia tones it will be great!
A good place to take your photo
You can take your photo anywhere you like, indoors or out.
The simplest thing to do is to take a photo of your child sitting or standing in your backyard on the grass, in front of a tree or amongst the flowers.

Any kind of wooden fence - sitting on the fence. or standing behind the fence and leaning forward on it. It can be raw or painted - the color won't matter in a sepia picture.

Wooden house or building - this kind of backdrop is good. again if your colorizing the photo in sepia tones the color of the house won't matter.

Some parks or gardens have old cart wheels and barrels you can use. Maybe a hay bale.

Riding your horse - real or otherwise.
Western invitations wording
See the examples below for wording inspiration or check out our western invitation wording page for ideas.
Wanted Poster invitation samples
Some examples of our custom printable western invitations. As you can see, no matter how you might be dressed, the invites turn out great. Take a look also at the different wording options.
| | |
| --- | --- |
| A shared birthday invitation | Casually dressed with no cowboy gear |
| Head shot with a cowboy hat | Retirement party invite |
| 1st birthday invitaiton | Another first birthday invitation, dressed in a shirt and long pants. |
Related Links
buy this custom wanted poster invitation
diy cowboy invitation ideas
western invitation wording