Make 50th Birthday Invitations
Life begins at 50, or is it 40? I have to say that after looking around for some 50th birthday invitations for my dear old aunts birthday I found that there is an extremely limited number of designs options available. And from those designs we could not find one that she liked.
We even looked online but still struggled to find an invitation design that was suitable. Lucky for me I am handy with glue and scissors and was able to put my skills to use and make our own birthday invitations.
I recommend that you make your own 50th invitations as you will be better able to match your invite to the party theme as well as create a special unique one of a kind invitation for that very special 50 year old.
iMake your own handmade invitations to help you on your way to celebrate this most awesome milestone event. Better yet you can get your kids to make them for you. Excellent!! Have a browse through the galleria for some over the hill party invitation inspiration.
DIY 50th birthday invitation ideas
50th Photo Invitations
Make a photo invitation that features the guest of honor. For an extra special invitation try to include a photo of the guest of honour as a child and another photo of them now. Black and white or vintage style photos look great
Making invitations with clipart
Look online for suitable "50th birthday clipart" and use it to create an invitation in a word document. Create your wording and insert your clip art images. This is a great option for an affordable invitation that you can print from your home printer.
Hand stamped invitations
Find a rubber or acrylic stamp set that you can use to accent your invitation design. Create your invitation wording on a computer with a word processing program like MS Word. Print them out onto firm card. You can then stamp your images with colored or black ink. Alternatively you might find it more beneficial to stamp and color your impressions onto the white card first then print over the top to complete them.
50th Photo Invitations
Scan a $50 note and take out the picture of the dignitry and put in an image of yourself.
Fiftieth birthday invitation samples
Click on the invitation to see more details of how the invite was made.
Mums 50th Birthday Invites
I made these invitations for my Mum's 50th birthday party. She loves handbags so I made her invitations into the coolest little handbags that were very easy to make. We hope you find this little tutorial helpful.
Materials
Large square envelopes

Plain White Card

Embellishments, odds and ends - buttons etc

Draw a handbag template

Ribbon for handles or straps

Adhesive - double sided tape or glue stick.
Directions
First off I found some large envelopes to contain the invitations - mine were square. When making your own invitations this is a really good idea. Be sure to check out postage costs to avoid any unexpected extra costs.
Create an invitation card template
I hand drew a simple purse shape onto cereal box cardboard for my card template.
Fold the white card in half and trace the template onto it. Cut it out prepare to decorate the front of the card.
Embellish the invite
To decorate the front of my cards I cut out pieces from wrapping paper, magazines, scrapbook papers. I used off cuts of ribbon, peacock feathers and buttons and buckles, which I wired to the card with a light jewelery wire. Everything is just stuck on with either glue stick or double-sided tape.
Make the purse handle
To complete the handbag look I added a ribbon or bead handle at the end. And I stuck a piece of matching coloured paper on the back of each envelope flap to create matching envelopes.
Emma McCleary
Featherston, New Zealand
Dads 50th birthday
This homemade invitation was made for a person's 50th anniversary. It was printed with a regular inkjet printer on fairly thick cardstock, folded, and fixed in place with a small piece of black tape which covers the birthday boys eyes.
Andreas M. Braendhaugen
www.ambwork.com

Printable 50th Birthday Invites
If you are not as handy with a pair of scissors, some glue and paper then you may like to look at some printable invitation options. We offer several affordable customised 50th birthday invitation designs that you can purchase. We personalize the invitations with your wording and photos of the guest of honor. You can include a current photo of the birthday boy (or girl) or you can include two photos - one of the birthday boy as a child and another more recent photo as an adult.
We email you your printable invitation to print at a photo lab (very cheap to print them this way 8c-15c each) or on your home printer.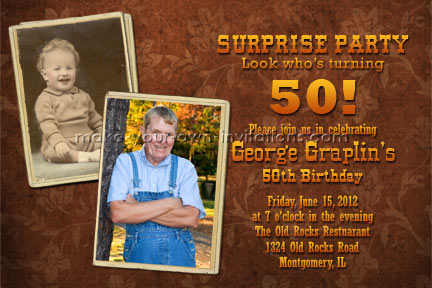 Invite Wording:Surprise Party: Look who's turning 50, Please join us in celebrating Jim's 50th Birthday. Date, time, location.