Beach Themed Invitations
We had always wanted to throw a fun Beach Party to kick off the Summer season so this year we made the dream a reality, got our swimmers and sunscreen an headed to the Beach for a fun day in the sun.
Of course when you live in our house, no party is considered complete without homemade invitations so we put our thinking caps on and brainstormed some ideas. The end result was a sand bucket party invites like these invites below. (Note that this tutorial is for a birthday invitation)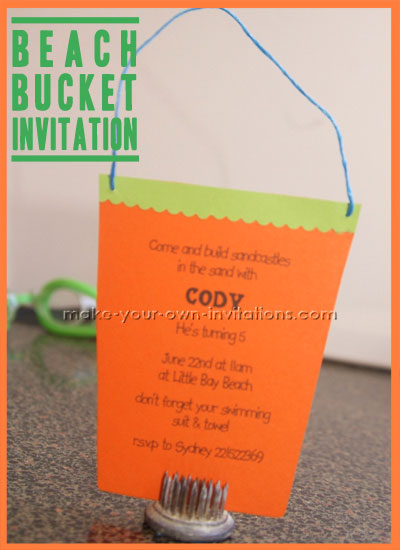 Are they not the cutest beach party invitations you ever did see. They were quick and easy to make so we thought we'd create a tutorial to share how we made them.
beach themed invitations tutorial
Beach themed invitation supplies

Orange and green cardstock
card to create template (cereal box cardboard is perfect)
sting or ribbon
glue, pencil, ruler, scissors
decorative scissors - scalloped
hole poking tool - needle, skewer etc

Step One

Create a template of a bucket on an empty ceral box and cut it out.

Make it large enough to fit the party information wording on to it and small enough to fit the desired envelope.

The measurements we used are 4" wide at the top, 3" wide at the bottom an 5" high.

Step two

Print your beach invitation wording on to the orage card. It needs to fit within the dimensions of your bucket template.

Print it on to test paper to make sure it fits first.

Step three

Trace around the cardboard bucket template on to the orange card and cut it out with regular scissors.

Step four

Cut a strip of green card with the fance scalloped scissors. It should be between a 1/2" and 1" thick.

Adhere the green strip to the top of the bucket with a glue stick or double stick tape.

Step five

Poke a hole in the top left corner of the bucket invite. Make it big enough to thread through your string or ribbon.

Poke another hole in the top left corner as well.

Step six

Cut a length of string approx 12" long. thread one end through the back of the card, pull it through then thread it back through the oppostie hole through the front.

Tie each end in to a knot.

Here is the completed invitation. You can adjust the size of the bucket to suit.

Add something extra

Decorate your invitation further with beach stickers of seashells, ocean creatures or other items you might find at a day at the beach.

Swipe some sand and adhere it along the bottom of the bucket with white glue for a realistic effect.
We hope you liked our beachey invitations and have as much fun making them as we did. If you have a homemade invitation that you would like to share then be sure to let us know.