Making Black Wedding Invitations

Black and white invitations are extremely popular. A black invitation seems to exude elegance...what do you think?
This elegant black and white wedding invitation was made for a friend's December wedding and is definitely one of my favorites. It is made with three layers of cardstock, all from "Envelopments" and tied with a 3/4 inch black satin ribbon
Supplies used for black wedding invitations
Craft paper cutter

Therm 'O Web Clear Mounting Tabs (this is the adhesive I have found works best, although "Envelopments" recommends Scotch ATG tape)

Patterned cardstock "Envelopments" Black Linen-PLU03 cut 6.25 x 6.25 (bottom layer)

"Envelopments" Black Linen cut 5.5 x 5.5 (middle layer)

"Envelopments" White Linen cut 5.25 x 5.25 (top layer)

3/4 inch black satin ribbon (about 25" in length)
How to make them
On your computer create the text for your invitations using free fonts, just make sure that it is aligned to fit nicely within the space provided on your cards. You can use your word processing software like MS Word and print on to an ink jet printer.

Test print and proof read to make sure everything is OK then Print the text onto the White card stock.

Center and stick this white layer onto the black layer with the mounting tabs.

Tie the black satin ribbon around these first two layers of cardstock then adhere to the patterned cardstock layer.
Debbie Maddux-Vargas
Miami, Florida
Invite Tips: Make sure that you make a mock up of your design to be certain that all the elements are correctly aligned. Then get all those bridesmaids together at your place and form that assembly line. You may have to feed them and ply them with food and liquor.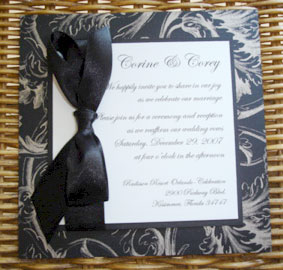 Black and white wedding invitations