Blues Clues Invitations and tips
Thinking of creating some clever little blues clues invites? If so you have come to the right place for some inspiration. We have some invitation examples made and submitted from readers just like yourself . Take a look around our ever growing picture gallery for some great ideas.
click on the image to see more details
A Blues Clues Birthday Soirre!
Using a google image search, I found a picture of a character that my daughter really likes, or that was appropriate for the upcoming party. I opened the image in Adobe Photoshop, and resized it to fit on the color background that matched a color in the photo that I thought was appropriate. Make sure you leave enough room for the words you want on the invitation front. Also in Adobe Photoshop, I chose a funky font in a coordinating colour to type whatever text I want.
I then open a separate blank file of the same size, I color it the same color as the background of the front and type my info such as what time and date the party is and the rsvp information. I send these to my local digital photo processing center. When i pick up the finished invitation fronts and backs, I take them home and stick them to either side of a coordinating color cardstock about 1/4 an inch bigger on each side. I use scrapbooking sticky square adhesives.
NOTE: i do not recommend selling invitations you've made with a licensed character on them. I am not sure about the copyright rules on that, so I don't do it. Invitations that I have made with characters on them are strictly for sending to friends and family.
Becky Bokern
Belleville, IL
Blues Birthday Invitation
I made this invitation all by hand. I wish there was a Cricut cartridge for that. lol I found a photo of Blue that I liked, printed it on the back of the blue cardstock and cut it out that way. I used some clear puffy paint type stuff to make her nose glossy. I free handed the party hat and used a punch for the ribbons on top of the hat and pop dots to make her head stick out some. Pretty simple. lol I used up scraps of paper to make the invitation!
The party information was printed on to white card and matted on to patterned paper.
Cathy Twitchell
South Jordan, UT USA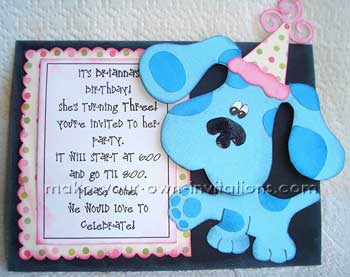 Blues Clues Invitations